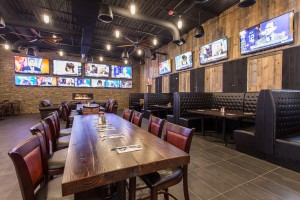 Serious Audio Video was selected as one of the Top 5 Bar & Restaurant Integrators by Commercial Integrator Magazine for two consecutive years. Our unique designs and user friendly systems take a lot of the hassle out of daily restaurant management.
The proper ambience keeps customers coming back, staying longer and spending more money. High definition video and crystal clear audio make sports bars as good as (if not better than) going to the game.
Serious AV is your single source provider of complete bar/restaurant technology systems with user-friendly controls and the ability to monitor everything from your smartphone or tablet. For end users and employees, automation and simplified interfaces provide a simple way to manage any number of TVs and video sources, audio outputs, light fixtures, motorized blinds, temperature settings and door locks. The increased efficiency and peace of mind are a bar or restaurant manager's dream.
Download Our Digital Brochure
---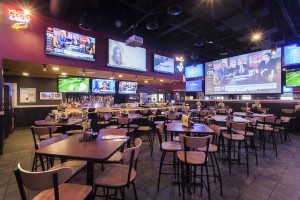 "Casey came in and showed us the ELAN g! iPad app, we were blown away. We didn't know there was a system like this. It not only makes managing our 50-plus TVs easy, it also lets us control our lighting and watch our security camera feeds remotely, which is huge for us since we're opening so many new locations. Now I'm going to be able to check on our Bridgewater restaurant while I'm at another grand opening 50 miles away. Finally, I don't have to think, 'I can't be in two places at once.' I can be in 7 places at once!"
Steve Sullivan Jr. Owner of 7 Buffalo Wild Wings locations in New Jersey