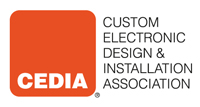 The leading integration specialists in the NYC/NJ area, we offer a number of services that can streamline your daily lives, reduce your monthly expenses, enhance your lifestyle, make you feel safer and increase the value of your home or business. Our personal and professional service, out of the box designs and user-friendly smart systems have earned us a number of
awards
 from industry leading trade publications. A
CEDIA
member since 2010, we take pride in offering the latest advancements in residential & commercial integration.
Our
smart home
 systems and
home theaters
have received numerous accolades for their unique design and user friendly controls. From planning to programming, we keep our clients informed of the process because educated consumers become the best customers. Upon completion of your smart system, we offer services that will keep your technology at peak performance.
An
industry leader
in commercial integration, Serious Audio Video specializes in making your business smarter. Detail oriented integration with set schedules, user friendly controls and remote access make it easier to manage your business from anywhere, whether you're operating a single office or a sports bar franchise.
Interested in getting Serious? Contact us today.
Download Our Digital Brochure
Residential / Commercial / Real Estate Developers
---
Because every customer is unique, every system we design is customized to enhance their lifestyle. Some of our most popular services :
Smart Home Automation Seamlessly manage every subsystem in your smart home using set schedules or a number of devices, including your smartphone or tablet. Imagine your audio/video, CCTV, security, heating, air conditioning, lighting, drapes, blinds appliances and any other home sub-system controlled through a single, easy to use interface.
Home Theater A Serious Home Theater combines high quality video, crystal clear audio, plush seating and custom lighting to create an authentic cinema going experienc at home.
Multi-Room Audio & Video If you want to watch TV or listen to music in more than one room, employ a multi-room audio & video system to stream TV, video and music from a number of sources (web, Apple TV, Amazon Fire, Google Chromecast, cable provider, hard drive, Blu-Ray, etc.) to any TV or speaker in your home.
Lighting Quality lighting is an important aspect of our daily life, and is often taken for granted. Light control is the ability to regulate the level and quality of light in a given space for specific tasks or situations. Controlling light properly not only enhances the experience, it helps to save energy by using light when and where it is needed most. Set schedules & one touch or proximity controls, your home will always have the perfect lighting.
Hidden A/V One of our most noteworthy approaches to designing aesthetically pleasing smart systems hides all of the hardware, keeping your A/V out of sight and out of mind when not in use.
Access Control A two-way intercom combined with an entry control system gives end users the ability to screen, record and communicate with visitors before opening a door to potential danger. Fully integrated cameras with Pan/Tilt/Zoom technology, night-vision and two-way audio communication provide worry-free interaction with visitors at any time, day or night. Communicate & secure your home with one easy-to-use system.
Motorized Blinds Whether you want to block out the sun for a full cinema experience or slowly open the blinds when it's time to get out of bed, Serious A/V can provide a custom solution.
Wifi & PC Networking Serious Audio Video provides professional networking, wifi & computer setup for homes and businesses. Our extensively certified / knowledgeable staff combined with preferred vendor relationships meet the information technology requirements of today's more complex networks. A strong computer network is paramount, improve your productivity & connectivity through technology.
CCTV, Security & Nanny Cams With a video surveillance system, you are always in the picture – 24 hours a day, 7 days a week. And, you don't have to sit in front of a TV screen. As soon as an unusual incident occurs, alerts are sent to monitoring centers and your smartphone or tablet.
Smart Home Pre-Wiring One of the most attractive aspects of living in a smart home is living in a home that's free of clutter. All the necessary wire and hardware are hidden behind walls and in closets. The most cost effective and efficient time to wire for the systems you want now as well as the systems you may want to add down the road is during construction. A/V Furniture Serious Audio Video offers a wide range of TV cabinets, lowboys, stereo stands & home theater furniture created specifically for use with audio and video equipment. Whether you're interested in modern design or a more vintage look, our SAV designers and installers will ensure your A/V Furniture is as functional as it is stylish.