The latest Buffalo Wild Wings by Serious Audio Video is a fully integrated using Elan's user-friendly g! interface. The restaurant's HVAC, lighting, motorized blinds, security cameras and audio/video systems are easily controlled using a conveniently docked iPad at the waiter-station, the touch-panel controls in the equipment rack and using upper-managements' smartphones.
The projection screens & TV's over the bar set up to resemble a scoreboard and a number of TV's throughout, make the big game easily viewable throughout the bar and dining area. Short-throw projectors make the most out of the smaller space, delivering cinema-quality projection from only a couple of feet away.
As always, this system was designed with the customers entertainment and the staff's convenience in mind. Pre-set schedules and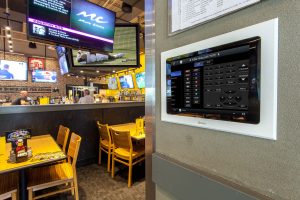 customized single touch controls make it possible to open/close the restaurant in a fraction of the time. If a customer wants a channel changed, management can do it at the table (using their smartphone).
All the necessary hardware that operates the integrated system is stored in a conveniently located closet, adjacent to the manager's office. Touch screen controls and a live TV preview make it easy to adjust the ambiance of the bar & dining area from the back room. The custom build equipment rack is locked and password protected, ensuring the system isn't tinkered with by well meaning and untrained employees.
See more of our award winning bar & restaurant systems in our Commercial Systems Portfolio
Smart business control platform by :

(Click for brochure)