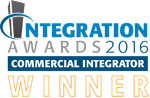 Chosen as the 2016 Bar/Restaurant Integrated System of the Year, Buffalo Wild Wings (Princeton, NJ) will be featured in the July 2016 issue of Commercial Integrator Magazine.
After doing a number of Buffalo Wild Wings' locations, SeriousAV was given free reign to design the integrated system as we saw fit.
We delivered the first fully integrated Buffalo Wild Wings. Their user-friendly Elan g! control platform makes it easy for the bar manager to adjust the HVAC, lighting, motorized drapery, media and security cameras without leaving the dining or bar area. An iPad is strategically installed at the server station, the on duty manager can even log in with their personal smart phone if needed.
The custom rack (left) houses all of the necessary hardware in a dedicated communications closet. Equipped with touch screen controls and TV preview make it easy to make adjustments from there as well.
One of the most popular features at BWW, tables are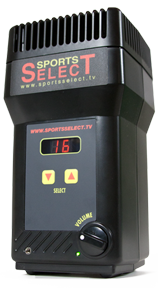 welcome to request portable Sport Select speakers (right) be brought to their table, giving them an option to choose which game they'd like to hear the play-by-play from.
The managers & customers alike are amazed at how quick they can change a channel or adjust the shades to a customer's liking. Most sports bars of this scale have big issues with simple processes, changing the channel is often a 5-7 minute process. By providing one easy-to-use control system, we've cut that time down to 30-40 seconds.
Custom designed to suit the needs of each client. Get Serious AV.
Smart Business Control Platform :

(Click for brochure)