Highlighted by TechDecisions as Project of the Week and shared by a number of media outlets, this award winning smart system turns Jersey City's newest rental building into a luxury rental community while improving residents' lifestyles with technology.
During construction of Cast Iron Lofts, we were asked to design smart common areas. Their residents safety and peace of mind were paramount but they wanted wow factor too. They wanted their residents to have all the amenities of modern living and the systems had to be easy to use.
Starting with the front door, they wanted an access control system that was both secure and easy to use. Residents are able to gain or give access via the bio-metric thumb print reader, key-fob and 4 digit access code. The lobby and library have bezel less in-ceiling speakers throughout, providing calm, meditative and relaxing music to create a welcoming ambiance. The front windows act as speakers, playing the lobby music at the front door. By connecting a device from Solid Drive, vibrations against the glass create audible sound vibrations. The volume, audio source and the lighting are all easily controlled using the Elan smart home automation platform.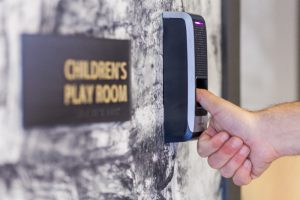 For added security, the key-fob and bio-metric thumb print are the only way to gain access to the Child's Playroom, Resident's Lounge, gym and pool area. Parents can plug the audio jack in to their phone to control the music and entertainment in the Children's Play Room and user-friendly touch panel controls adjust the lighting and TV.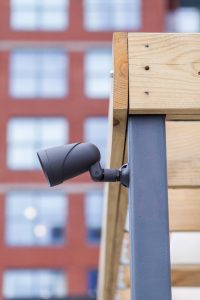 The pool area rivals the best hotels in the NYC area. The private cabanas, fire pit, outdoor movie theater and grilling area are all equipped with speakers, security cameras and an audio jack; so residents have the option to play music of their own and audiophile approved low profile all-weather speakers give great sound without creating an eyesore. At night, a projector is brought out and the grill area converts to an outdoor theater, pumping audio through the low-profile speakers.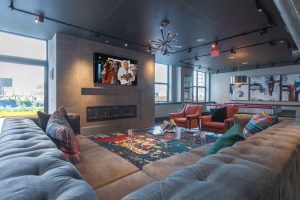 The Resident's Lounge is adjacent to the swimming pool. Inside residents have access to a cinema quality HD system, a bar area and game room with HD screens and an audio jack to provide music and entertainment from their personal collections. An Elan touch panel with user friendly controls operates the various home technologies and gives residents the option to reserve the room and entertain guests.
Tour Cast Iron Lofts in the video below and see more MDU projects in our commercial gallery.

Smart common area control platform by :

(Click for brochure)