The Russell Barrie Foundation in Teaneck, NJ contacted Serious Audio Video hoping to add smart technologies to their conference room. A non profit dedicated to making a difference through social investments in innovative ideas, they wanted something functional and user friendly that would impress anyone who visited their offices in Sanzari Enterprises' beautiful Glenpointe Office Complex.
The conference room didn't have enough space for a number of gadgets, so we recommended a Draper motorized screen that retracts into a hidden housing unit located in the ceiling. When not in use the screen is completely out of site and out of mind.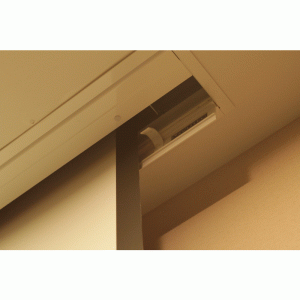 They use the conference room pretty often, so the system had to be reliable, we recommended the Elan g! automation platform. The user friendly system controls the lights, HVAC and Draper motorized screen. The HuddleCam video conferencing camera & and Yamaha speaker/receiver provides seamless long distance conferencing. With the swipe of a finger they can easily dim the lights, lower the screen, activate the projector and turn on the PC that controls the video conferencing & presentation software.
The most impressive part of the installation was that there was no dry wall repair necessary. The Serious Crew cut a hole in the ceiling the exact size of the screen's housing using and used that hole to run the necessary wires with precision. In and out in less than a week, the Russell Barrie Foundation is so impressed with their system they're interested in adding motorized shades & security functions to their smart system.
Smart Business Control Platform :

(Click for brochure)