When the owners of Somos, a new Latin restaurant in North Arlington, came to us they had a unique request. They wanted an audio/video system that could easily transition from quiet fine dining to upscale sports bar. Most days, they're a fine restaurant but want to be able to draw crowds during big games, movie nights or other televised events. We recommended a motorized retractable theater system with advanced short throw projectors and a low profile sound system that wouldn't cause an eyesore for dinner guests but would wow patrons on more eventful evenings.
At first glance, you barely notice the speakers and subwoofers around the perimeter of the room, and the OLED TV's at the bar provide crystal clear picture, whether broadcasting the big game or putting art on the screens. The short throw projectors are best in class, they deliver a cinema quality image while only needing to be a few inches from the screen it projects on, truly top of the line.
The sound system is also more powerful than it looks, easily going between subtle ambiance and more of a night club atmosphere with the push of a button.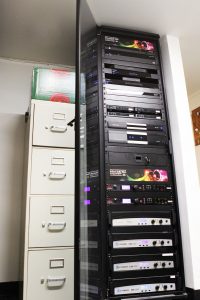 The entire system is easily controlled with Elan's control platform and strategically located touch panels at the bar and manager station. All of the necessary hardware is conveniently stored in an equipment rack in the manager's office. The rack's locking mechanism keeps tampering hands off and ensures management won't have to make unnecessary service calls.
With our help, Somos is now able to cater to very diverse customer groups. They can have fine dining one night, a sports another night and a jumping night club on the weekends. This is what happens when you get Serious.
Smart home control platform by :