The owners of this newly constructed Jersey City condo found us online and decided to get Serious based on our dedication to aesthetically pleasing design.
When we first arrived on site, it was a blank slate. Barren white walls with a lot of natural light. They asked us to design a concealed entertainment center for cinephiles that didn't hijack their limited living space.
We came up with an easy-to-use smart home system with a stylish eco fireplace build out, using reclaimed wood and matte tile.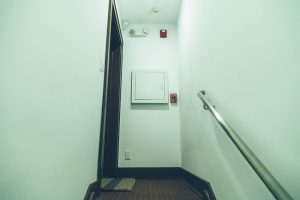 Their entryway is guarded by a low profile motion detector and camera, they'll know anytime someone climbs the stairs to their home. Totally invisible at a glance, the motion activated camera is indiscernible
Once inside the eclectic condo, the multi-room audio system provides each room with a unique soundtrack or plays one synced audio stream throughout the home. Low profile in-ceiling speakers in the foyer, bedrooms kitchen and dining area bring powerful audio without sacrificing living space.
The real wow factor here is the custom built entertainment center, backsplash and cabinetry… All designed and fabricated by Serious Audio Video's technicians & carpenters.
Everything you see what custom designed & fabricated, down to the rustic reclaimed wood cabinet and modern fireplace. The hidden surprise? All of the smart home's necessary hardware are concealed in a secret compartment that's easily accessible.
When it's time to watch a movie, the motorized speakers above the TV silently lower into position, directing the audio towards the viewers. An in-wall subwoofer behind the couch rumbles with the bass, putting you right in the middle of the action.
The entertainment system, eco fireplace, lights, motorized shades, multi-room audio, door locks, intercom and Nest thermostat are all seamlessly controlled via URC's Total Control home automation platform. A magnetic iPad charging station from Launch Port is conveniently stationed just as you enter the living room. They can answer the front door without getting off the couch.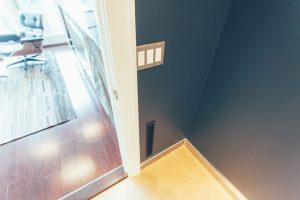 Finally, to increase the longevity of the hardware, we built a custom cooling vent for the system hardware with an exhaust in the guest bathroom. The system is easily accessible for maintenance, servicing and upgrading. We design all of our systems with upwards mobility, making it easy to add new smart amenities as the homeowner's lifestyle and needs change.
Smart Home Control Platforms :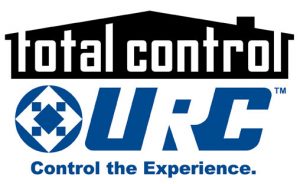 (Click for brochure)