Our new clients in the Hoboken's prestigious Hudson Tea are huge sports fans. They wanted a minimal and easy to use smart home system and a home office that could double as a Man Cave.
The Elan Home Systems whole home control platform is easily controlled with their sleek HR2 remote as well as the g! app on the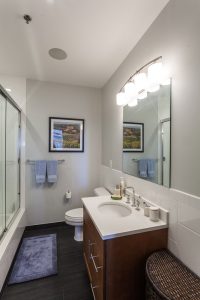 homeowners' smartphone and tablet. Single touch controls and automated schedules adjust the lighting, motorized blinds, security settings, HVAC, ceiling fans and entertainment systems to their liking.
The whole home audio/video system plays audio & video from a number of feeds (web, broadcast, MP3 playlists, Blu-Ray, etc.) throughout the living room, bedroom, office and bathroom. Put the big game on in every room, listen to music in the bedroom or watch a Blu-Ray in the living room; user-friendly controls streamline this complex system.
The real WOW-factor here is the home office that pulls double duty as a Man Cave. The custom designed video wall is the type of thing we normally do for sports bars. A 90 inch LG TV and three 30 inch LG TVs framed by custom designed wall hanging speakers & in-wall surround sound means they'll never miss a moment of the action. No fumbling between remote controls, easily toggle between channels with Elan's HR2 remote or g! smartphone/tablet app. We also installed an easily accessible HDMI in and ethernet out plugs for any guests who may want to connect to the system.
All of the necessary hardware for this complex system are conveniently stored in a custom built equipment rack. Located in the office/Man Cave closet with the wires hidden, the system is completely free of clutter and easy to upgrade or service.
Smart  home control platform by :

(Click for brochure)