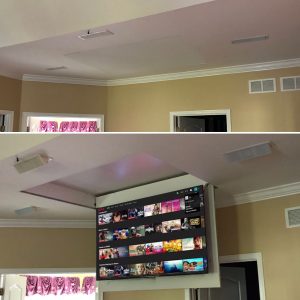 These smart home clients decided they were ready for an upgrade. They like to watch movies in bed but don't want the TV to be the focus when walking into their bedroom. Since they loved our design suggestions throughout the house, they asked us to find a way they could bring their movies to bed with them. We decided to completely hide the TV when it wasn't in use.
The LG OLED TV and Nexus 21 lift partnered with motorized surround sound speakers, this "there when you want it" system brings cinema quality sound and picture without taking up a big footprint. When you want to watch a movie, the TV and speakers lower to the optimum position and retract when you're done, all at the push of a button… Or, swipe of the finger.
Now, they have a stunning HD picture and cinema sound when they want it and a clean relaxing bedroom, free of any eyesores, when they don't.