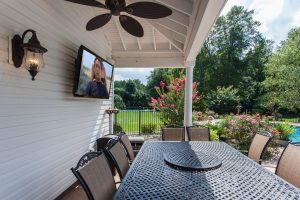 A previous smart home client wanted to add a backyard oasis that their growing family could appreciate for years to come. They wanted an easy to use weatherproof system that impressed even the most discerning audiophile (their father) while keeping a low profile. After putting a lot of effort into creating a beautiful pool area, they didn't want any system components that distracted from their well manicured lawn.
The Seura Storm (Ultra Bright) weatherproof TV is bright enough to fight the sun's glare during the day without giving viewers a headache at night. The 55inch TV is the perfect fit for the pool house wall and easily seen from anywhere in the backyard.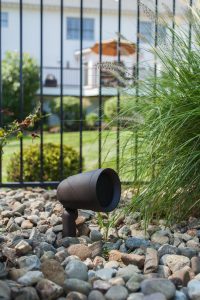 The Sonance Landscape Series combined with Bose's all-weather speakers have become our go-to when designing outside systems for both residential and commercial settings. The small but mighty speakers pack a powerful punch and stand up to even the harshest elements. Because they're all about that bass, we also buried a powerful Sonance subwoofer among the shrubbery.
We're happy to report that the family's hard to impress audiophile was blown away by the power of the low profile sound system.
The whole system was seamlessly synced with their existing URC smart home control system. The homeowners can easily control the TV & audio with their Universal Remote as well as the iPad and iPhone app.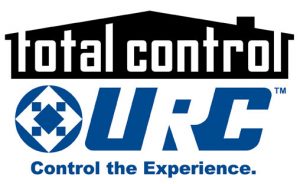 (Click for brochure)