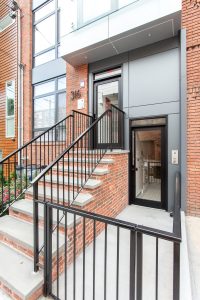 This smart home  was highlighted in the 2nd issue of Connected Design Magazine, a magazine that featuring advanced technology integration that focus on aesthetically pleasing interior design.
When previous clients were moving to a new home, they came to us with a dream system in mind. The entry level smart system in their last home controlled their lighting and HVAC. Now, they wanted a complete home control system that was easy enough for their kids to use while keeping the home and family secure. We partnered with their interior designer, VDA Design, to deliver a living space that is truly unique.
The access control system, complete with an HD door-bell camera and two-way communication makes it easy to answer the door when they're not even home. Low-profile security cameras at the doorways, on the roof deck and ground level windows give the family peace of mind without creating an eyesore.
Set schedules and light sensors keep the home well lit while reducing the family's monthly electricity bill. One touch controls make dimming the lights, lower the blinds, adjusting the HVAC and controlling the multi-room audio & video systems easy enough for the kids while parental controls keep them locked out of the security system and less age appropriate entertainment options.
The living room's OLED 4K and in-wall surround sound brings a Hollywood cinema-going experience to the comfort of their home. The user-friendly app dims the lights, raises the blinds and starts the movie with the push of a single button. When the movie's over, the lights and blinds return to their original setting.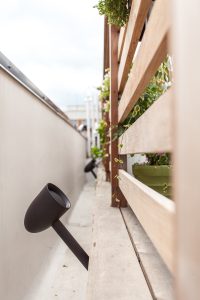 The system in dad's home office is designed to help him work, free of distraction. The HD TV doubles as a computer, complete with stock tickers and business updates. The multi-room audio system can play audio from any number of sources and "white noise" to help cancel out the ruckus from playtime down the hall.
The master bedroom's lighting control system is fine tuned to raise the blinds when it's time for mom and dad to get up Monday through Friday and let's them sleep in on weekends… Assuming the kids cooperate with that idea.
T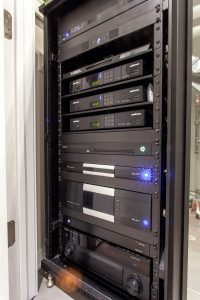 he text book SAV wow-factor is in full display on the roof deck. The clients wanted a place to entertain guests, the 65″ Seura weather-proof 4K TV, outdoor kitchen, fire pit and all-weather speakers (hidden around the perimeter of the deck) create an elegant space for any occasion.
The custom built equipment rack houses all of the necessary hardware. Conveniently stored in an out of the way location, the lockable rack keeps curious and untrained fingers from adjusting the settings. Easily upgradable should their needs and lifestyle change, the Elan g! smart home control platform is designed to grow with the family.
Smart  home control platform by :

(Click for brochure)