After buying their home these homeowners focused on improving their lifestyle with technology. Their fully functioning smart home is not only energy efficient and secure from intruders, it's also bursting at the seams with entertainment options and comfort controls.
The OLED entertainment system in the main living area is fully equipped with invisible surround sound; floating left & right speakers combined with rear in-wall speakers deliver cinema quality sound whether you're watching The Avengers or Rachael Ray. The water proof Séura TV in the kitchen provides worry free entertainment, even for the messiest chefs. Moving outside, a weather proof Sunbrite TV on that back patio delivers a 1080p picture in direct sunlight. Sunbrite TV's, made in America, are located in some of the country's top sports arenas (including Yankee Stadium).
Last but not least, the Man Cave… Two cinema quality OLED TVs float off the wall in the sitting area and above the bar, crystal clear audio is evenly distributed throughout using Kef's in-ceiling speakers as well as the 3.1 cinema surround sound. Just adjacent to the bar area, the homeowner chose to prominently display his rack in a custom wall cut out. All of the smart home's necessary hardware is easily accessible and displayed like a work of art.
Everything is controlled with URC's user-friendly Total Control app on the homeowner's tablets and smartphones. A Universal Remote with the ability to control every aspect of the smart home's HVAC, lighting and entertainment systems are conveniently stationed in both the main sitting area and the Man Cave.
Smart Home Control Platforms :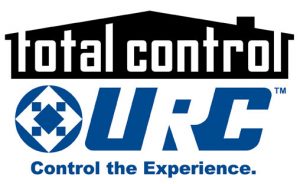 (Click for brochure)