The kitchen of this Elan powered smart home is the perfect place for the family to congregate. Mom and Dad love to start there morning with coffee and the news, especially when they're worried about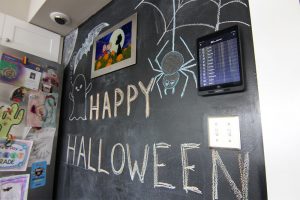 weather warnings and school closings. At dinner time the low profile Anthony Gallow speakers provide big sounds for taking up such a small footprint. If there's a movie on in the TV room, they can stream it to the kitchen too, so they won't miss anything when they run to the fridge. Or, they can play audio from a number of sources, including their personal playlists, online services or radio/tv broadcast.
The Seura Hydro series TV is recessed into the wall, flush. Though it's not positioned where it's going to get wet, it's water resist and safe if something crazy happens while making dinner. The Elan home control platform has a powerful app, "Elan g!", that seamlessly controls the whole home system. The home's lighting, temperature controls, window shades, security systems, door locks, pool temperature, irrigation and any other home sub system are easily monitored and adjusted with the swipe of a finger. An iPad launch port strategically stationed near the lighting controls docs and charges the iPad in a central location when not in use.
All primed for Halloween, The Great Pumpkin Charlie Brown is available wherever videos are sold.
Smart home control platform by :

The homeowners sent us this Spooktober video, as they enjoy some Halloween fun!
We hope you're enjoying Spooktober as much as we are! 🎃 #Spooktober #HappyHalloween #SmartHome #ElanHomeSystems #GetSeriousAV

Posted by Serious Audio Video, Inc on Thursday, October 24, 2019