This new client contacted us based on our design aesthetic.
A big sports fan who likes movies and art wanted to find a way to combine all three. We suggested hanging three of the Samsung Frame TVs, side by side. On major sporting days he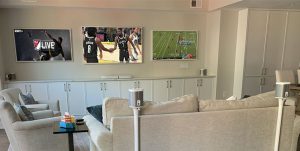 can put three games on and quickly swap screens so the big moments are on the primary center TV. The Sonos surround sound system acts as the center TVs main audio, whatever goes on the primary TV becomes the primary audio.  He can also alternate audio options, choosing one TV, all three TVs or play something from another source, like his Spotify playlist.
He can also use his PS4 gaming system through any of the TV's and challenge his friends to NBA 2K or Madden while watching games on the other TVs… Football Sunday will never be the same.
On movie nights the center TV shows the movie while the TVs beside it can display art or be turned off if they cause too much of a distraction.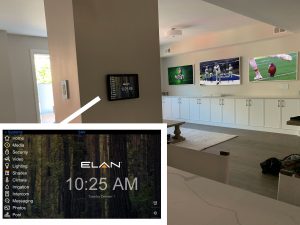 Everything is seamlessly controlled with the Elan g! app on the homeowner's iPad or smartphone. User friendly controls make it easy to adjust his lighting, audio controls, change channels, start a movie, answer the front door, open/close the shades and set the climate controls.
Elan's system is incredibly energy efficient. He's able to monitor his home's carbon footprint and make necessary adjustments quickly and efficiently.
Smart home control platform by :