We partnered with interior designers, CD Interiors, to create a unique smart home in the penthouse of Hoboken's W Hotel.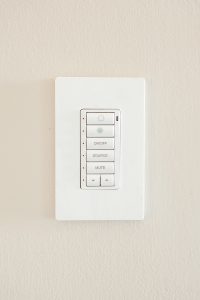 Elan Home Systems controls the home's HVAC, lighting, security cameras, multi-room audio & multi-room video with one user friendly app. Customized "short cut" light switches and strategically places touch panels (in the kitchen, bedrooms & foyer) adjust the ambiance of individual rooms or throughout the entire home. Temperature sensors automatically adjust the HVAC automatically, each sensor is camouflaged to avoid creating any eyesores.
The multi-room video system sends video signals from broadcast, various apps (Netflix, Amazon, etc), Apple TV, blu-ray player and game systems (PS4, Nintendo Wii U) to any TV in the home. Serious art aficionados, they can also set the TV to rotate works of art when they entertain. Their multi-room audio system can give each room it's own unique ambiance or play one audio source throughout the home, without delay or echo.
The 80-inch TV and invisible surround sound in the home theater/game-room put you in the middle of the action. You've never experienced a game of Mario Kart like this. The Elan HR2 remote in the game room seamlessly controls each of the home's sub-systems, including the intercom and security cameras, they don't even have to get off the couch to answer the door.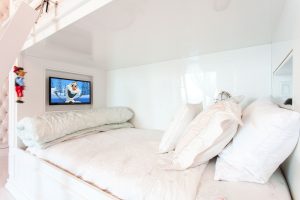 The bedrooms are designed to fit and grow with each individual lifestyle. The little girls' princess room has parental controls set. The TV in the play area and custom recessed into the bunk beds only play approved sources from the multi-room video system and can be adjusted as the kids get older.
As always we understand that families grow and lifestyles change, the system is designed and installed with the future in mind and can grow as their needs change.
Smart home platform by :

(Click for brochure)