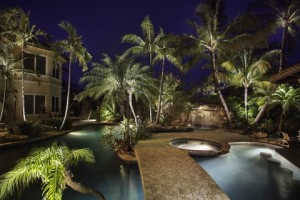 As spring & summer approach, everyone is excited to get outside in the warm weather. The issue with most outdoor lighting & entertainment systems is durability against the elements. Heavy storms, unruly temperatures and inattentive landscapers ruin a number of systems.
Weatherproof lighting & audio systems from Coastal Source are built to last.
Coastal Source landscape lighting & audio products are built with integrity. More than 50 years of hands-on industry experience gave Coastal Source what they needed to take on the entire landscape market. Real world and laboratory testing give Coastal Source a solid understanding of the challenges home owners have to overcome. They created "A solution that is defying the elements."
Coastal Source has designed and engineered the entire system to be better… from the transformer to the last light bulb.
Coastal Source is not the cheapest option. It is the best option.
As a part of the C.S. testing process C.S evaluated products from every reputable manufacturer of weatherproof systems. One of the problems faced is that all products work, even the cheap ones, for a while. Then they quit, fail or fall apart. You are forced to make expensive repairs or totally replace a non-functioning system components (lighting, speakers, subwoofer, etc.).
Coastal Source landscape lights & speakers are created from the raw material up. The fixtures are designed for superior function and durability.
Every Coastal Source landscape light fixture is made with 100% brass components and come equipped with the patented Coastal Connector.
Patented Landscape Lighting System
The popularity of outdoor living has brought a new focus to outdoor systems. Creating areas outside your home to enjoy by yourself or with loved ones adds to the livable square footage of your property. Deciding to add landscape lighting to your home is an investment in pleasure, safety and curb appeal.
Patented Outdoor Audio System
QUALITY SOUND is much different than just sound. Why should beautiful sound be confined to your home? Whether controlled from your smartphone or integrated into your existing home audio system, Coastal Source Outdoor Audio products can be tailored to fit your outdoor environment.
Patented Waterfront Lighting System
Coastal Source Dock Lights take waterfront lighting to the next level. The subtle illumination they emit makes your dock, seawall or pier more beautiful, safe, and secure.
"Once my Coastal Source dock lighting came on, my neighbors instantly had dock envy!"
— Chip Davis, President, American Gramaphone Records
Architectural Lighting System
Coastal Source Architectural Lighting combines beauty with Made in the USA durability. Solid brass construction coupled with living finishes creates a fixture that will provide maintenance free enjoyment and beautify your home for years to come. Each fixture is available in four configurations for easy mounting.