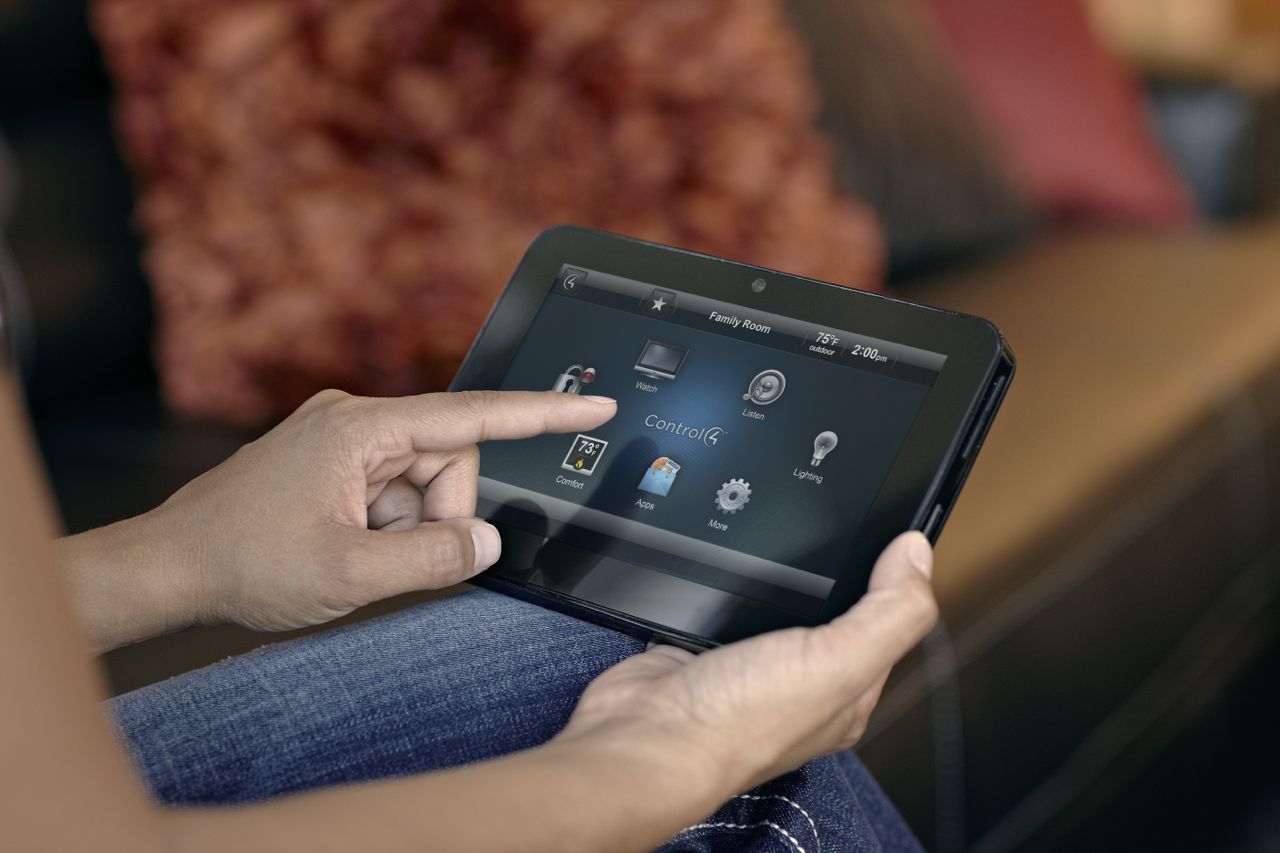 Control4 offers the ultimate home automation solution by making the products and systems you already have and use everyday, work together. By integrating everything from lighting control, music, home theater, climate control, security—even iPads, iPhones and Android smartphones and tablets—a smart house by Control4 creates personalized experiences that enhance your life and provide added comfort, savings, convenience, and peace of mind.
Start small by automating just your family room or home theater. Or go big with whole-home automation. Control4 is built to grow as you go. No matter what the application, the experience is unforgettable and you'll wonder how you ever lived without home automation.
[mediagrid cat="768″ filter="0″ r_width="auto"]
Complete Home Control
With Control4, you can start with just one room or automate your entire home all at once. Here are just a few ideas to turn your house into a smart home:
A "Wake Up" scene automatically adjusts the thermostat and gradually turns up the lights each morning.
A "Goodbye" button locks the doors, arms the security system, turns off all the lights, and adjusts the temperature on your way out.
While away, your Control4 system alerts you when your child arrives home from school or if there is a water leak detected in the laundry room.
A single remote or touch screen provides you with complete control of your entertainment system. As the movie starts, the shades close and the lights dim—automatically.
Ultimate Home Theater
Home automation takes movie watching to an entirely different level by integrating the products and services you already have into one seamless, awe-inspiring experience.
Start the movie, dim the lights and set the temperature with the touch of one button.
Automatically raise the lights to 50% when the movie is paused so you can make that quick trip to the snack bar in safety.
When someone comes to the door, automatically pause the movie and see who is there on your touch screen without ever leaving the couch.
Business
As a business owner or facility manager you have enough to worry about without letting the technology of business operations distract you. Control4 can give you competitive advantage by improving operating efficiencies.
Set your lighting, music, temperature and video to greet your customers with the perfect welcome.
With one button your security system arms, lights go on, temperature adjusts and all the music and TVs automatically turn on.
Keep an eye on things—from anywhere. Whether equipment or lights are left on, or unusual activity is detected, you'll always be in the know without having to drive by for an in-person check in.
Professional Office
Doctors and dentists have discovered the benefits of automation. Control4 delivers comfort and convenience to patients and staff in unexpected ways.
Automate the lights and climate control to save energy.
Program lighting scenes according to procedural requirements.
Use the intercom system to stay in touch with nurses and patients.
Give patients control of their own entertainment during recovery.
Boardroom
Technology enhances every meeting and presentation, but sometimes getting everything to work properly is problematic. Control4 can help.
Use one-touch control to dim the lights for a presentation, lower the screen and power on your video conferencing system.
Incorporate video conference call capabilities to include off-site employees and manage it from one easy-to-use interface.
Restaurant & Bar
Managing numerous TVs on different channels in a sports bar or restaurant is complicated. Control4 makes it easy for your team to control the AV system and lights.
Play HD video from a variety of sources on multiple TVs, and control them all from one simple interface.
Automate lighting and climate control systems to save energy.
Turn on the building in one touch and make "Closing" time easy by powering down everything with one button.
Fitness & Spa
Fitness centers often have several TVs and audio systems playing, along with the lights, climate, and security systems. Take control and keep your focus on the guest experience with Control4 automation solutions.
Access music from any source in any room, so every instructor can tune into their class favorites.
Send HD video from any source to any screen in the building.
Program the pool, hot tub, and sauna to conserve water and energy.
Turn everything off and arm the security system with a single touch.
Hotel
Hotel properties benefit greatly from Control4 automation solutions. Save money through improved energy management and enhance your guest's experience at the same time.
Automate all lighting and climate systems to minimize energy waste as soon as the guest checks out.
Customize the room experience to delight every guest: from lighting scenes, to automated drapes, entertainment—even their wake up experience.
With the swipe of a key, the room greets guests with dimmed lights, soft music and drawn shades.