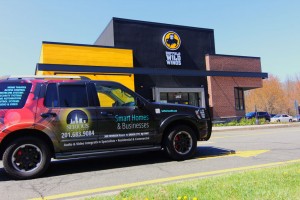 Commercial Integrator highlighted our award winning smart system at Buffalo Wild Wings.
Commercial Integrator reports :
t's not all about price for some customers. Some put a premium on value, and even more so on proving that value.
This New Jersey-based Buffalo Wild Wings might have been the seventh location of the franchise owner for which Serious Audio Video handled the technology for the fast-growing sports bar chain, but that didn't mean the Union City, N.J.-based integration firm didn't have to earn it.
"They still made us bid against other companies and teased us for how much more expensive we are than the other guys," recalls president Casey Johnston. "We were more than double the price of our closest competitor."
The truth, however, is that the franchise owner had been impressed with Serious' previous solutions including the size, scope and reliability and, as such, gave more "free reign to design the system as we saw fit," Johnston says.
It was important for Serious to seize the opportunity in part because "there had been rumors of corporate potentially bringing us in to consult on other systems nationwide."
The high stakes were made more dramatic because — as is always the case with sports bar projects — the customer imposed a hard deadline in order to be up and running for a particular sporting event. "Having two weeks to do it was terrifying," acknowledges Johnston.
In the case of this Buffalo Wild Wings, there are three upper managers, five assistant managers and a staff of over 40 who may interact with the system.
Integrator Takeaways:
1. Think automation before thinking of the jaw-dropping audio and video; after all, what good is it if it's not accessible.
2. Treat every project as if it can potentially turn into seven more.
3. Build on successful solutions to continually improved value that you can then brand as your own.
End User Takeaways:
1. A good control system and user interface can save end users valuable time and increase productivity.
2. It doesn't hurt to let your technology partners know that there is potential for more work if needs are met and project is successful.
3. Find a good tech partner and be faithful to them.