The videos below are examples of automated hidden TVs & projections screens from recent projects.
One of our most noteworthy approaches to designing aesthetically pleasing smart systems hides all of the hardware, keeping your A/V out of sight and out of mind when not in use. Perfect for urbanites with less square footage and homeowners who don't want their entertainment system to be the focus of their living space. Our award winning designs are perfect for residential or commercial clientele.
TV's can double as a mirror, be hidden behind artwork or automatically raise from furniture designed to conceal screens at any size. For real cinephiles, projection screens can be lowered from housing units in the ceiling. Because modern TVs are so incredibly thin and light, it's possible to create custom solutions that will fit any space. If you can imagine it, we can make it happen. Partnered with a smart home automation control system, the concealment system can be easily controlled via app or Amazon Alexa voice commands.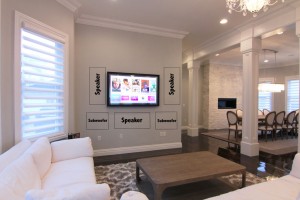 Powerful speakers can be hidden within the walls and ceilings, making it possible to have a 5.1 surround sound without filling your living space with speakers. Creating a cinema experience when you want it, even in small urban spaces.
Give every room a unique ambiance or play the same song throughout your home. A Serious multi-room audio system with in-wall or in-ceiling speakers makes it easy to entertain without creating an eyesore. Big speakers or stereo systems in every room is so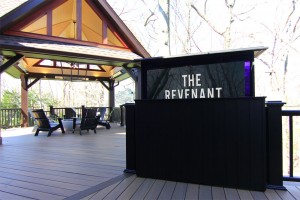 80s.
Outside, we use easily camouflaged all weather speakers, subwoofers and video displays. Components with sleek design that are guaranteed to stand up to the roughest elements and be enjoyed for years to come.
The videos below are examples of low profile indoor & outdoor sound systems.
Small security cameras can be
hidden throughout your home
 and property, giving you
round the clock CCTV
. Cameras can even be hidden within smoke detectors and other devices, because of advancements in technology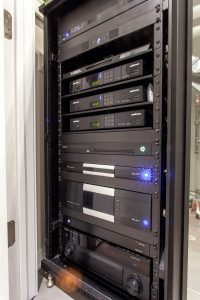 really small cameras are capable of capturing high res images and recording them to a cloud based system. Very extensive CCTV systems now cost a fraction of what they used to.
All of the necessary hardware is kept in a custom equipment rack; usually in a basement, closet or crawl space. The detail oriented structured wiring is run through the walls and organized thoroughly, so there's no unsightly wires or clutter.
All the components we use meet CEDIA's high standards of quality and are only available to CEDIA certified integration specialists. Combined with our award winning design and integration tactics, we can make any living space truly remarkable.
We partner with the most sought after audio & video technology manufacturers.