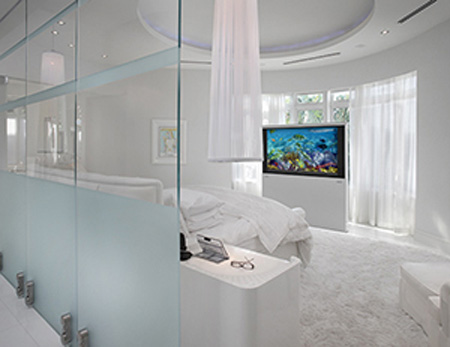 INCA manufactures motorized systems to move flatscreen displays, projectors, appliances, doors, artwork, and other items for home theater and entertainment centers.
Add Contemporary Flexibility To Your Furniture
If you've got a big screen plasma or LCD television, you've got a big design challenge. Where do you put this big display while maintaining the aesthetics of a room? With Motorized Wall Systems and Pop-Up TV systems, you can obscure the big-screen plasma and LCD televisions behind or within furniture, floors and ceilings.
By hiding a plasma television away via Motorized Wall Systems or a Pop-Up TV, you can free up valuable floor and wall space, allow for easier room design, and safeguard your valuable technological equipment.
As the majority of people have unused available space below their floor or above their ceiling, this makes for the perfect location to place the Pop-Up TVnesting unit. When the device is activated, the pop-up unit springs into action and the television display smoothly raises or lowers. Hidden floor and ceiling panels keep the unit covered and secured when stowed — and then magically slide away to allow the Pop-Up TV to raise or lower upon demand.
Using Motorized Wall Systems, your television display can be tucked safely and securely behind a wall – including all those unsightly power and connection cables. With the click of a button, wall panels open and the television transitions into view – sheer modern convenience.
Additionally, plasma and LCD displays can be mounted in an exposed area and automated. With Motorized Wall Systems, an ordinary display mount becomes extraordinary – and automated! With the click of a button, adjust the display up or down and from side to side. Motorized Wall Systems make television viewing versatile — and fun!