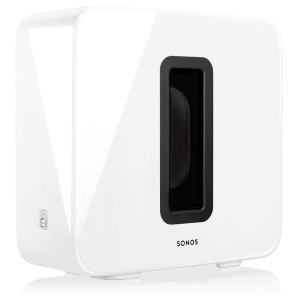 Available for pre-order from Serious Audio Video :
Whether it's part of your home theater system, or being used for music, Sonos Subwoofers provide earth shattering bass. The customers spoke and Sonos listened, the compact & sleek design of the Sonos subwoofer will be available in white, later this month.
Layers on jaw-dropping bass to any Sonos speaker.
Uses your WiFi, easy to set up and expand your system over time.
Two force-cancelling speaker drivers positioned face-to-face offer deep sound with zero cabinet buzz or rattle.
Place it anywhere in the room – even lying flat under a couch.
Works with all Sonos amplified components: CONNECT:AMP; PLAY:5; PLAY:3; PLAY:1; PLAYBAR.
Interested in pre-ordering the sleek white sub from SONOS? Contact us