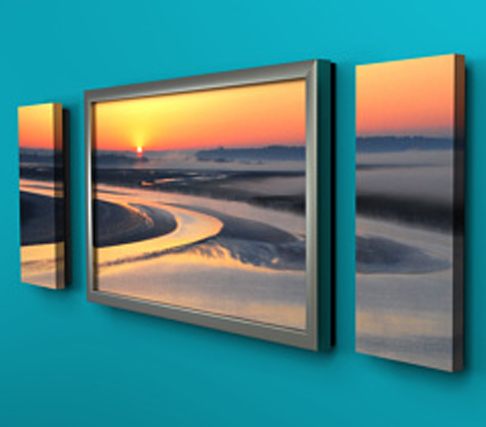 Stealth Acoustics has reconfigured it's award-winning invisible speaker technologies and installed them into a thin, on-wall speaker package, with a completely flat-front radiating surface that can be finished in a wide array of options.
The Satin White Image II can be mounted right out of the box or finished in the field to match virtually any décor imaginable.
The Image Wrap™ model includes high resolution images (from our artist gallery or customer provided) that are factory laminated to the speaker face in a "studio wrap" style that turns the speaker itself into a work of art.
For a truly sweeping scene, select The Trilogy™. This option combines the freshly updated CoverArt with a pair of Image II speakers for an awesome panoramic three panel spread. No other on-wall speaker gives you this flexibility in creating the exact look you need to match your aesthetic goals.
Speaker installation takes only moments with the included Slimmount™ system. Simply use the included hollow wall anchors and mounting template for a hassle free art speaker mounting experience.
Customizable beauty is just a portion of the Image II speakers' value. Audio performance is impressive, with smooth high-frequency response, solid bass extension, excellent imaging and 170 degree dispersion.