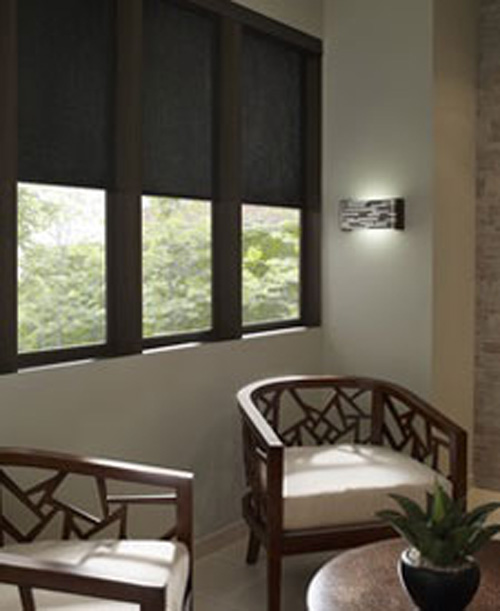 Motorized shades that quietly rise and lower on cue with the simplicity of no wires are available in narrower sizes perfect for home or office spaces with small windows. QMotion's QAdvanced roller shades that incorporate sleek and stylish design with the batteries and motor located inside the shade tube can now be installed in window openings as small as 15 ½" wide.
The new narrow roller shades include the exclusive elements of the QAdvanced full-size roller shades, such as QMotion's patented manual override feature, stress-free programming and control, and safety with no cords. Through the use of high-precision steel ball bearings, QMotion shades dramatically reduce the friction that exists when the shades move. Less resistance means effortless motion providing unmatched quietness.
Although the full-size roller shades are powered by D-cell alkaline batteries, the new narrow automated shades function with an internal pack of three standard alkaline AA batteries. Lithium batteries may be used in the narrow automated shades for longer battery life. Since the batteries are located inside the shade tube, it allows for easy battery replacement without having to remove the shade from the brackets. A low voltage wired shade is also available.
QMotion offers an extensive selection of fabrics of light filtering, decorative and beautiful blackout materials enhancing any space with exquisite style and design options providing varying degrees of privacy, view-through, glare control and degrees of heat gain. In addition, several choices of painted or fabric-covered fascia are available to conceal the top of the automated roller shades.
As with the full-size shades, the narrow automated roller shades are unbelievably easy to use. The shades automatically adjust to preset open positions or you can manually adjust to any height by pulling the bottom bar. Manually adjusting the shades does not harm the motor due to the patented manual override system. The shades can also be programmed to raising and lowering at preset times throughout the day helping to reduce energy consumption.
Operating with the newest and most innovative control technology, QMotion shades can interface with most building and home automation systems. In addition to working with automated systems, QMotion has developed iOS and Android apps for making raising and lowering shades easier than sending a text. For more information about QMotion's QAdvanced Narrow Roller Shades, visit QMotionShades.com.
About QMotion Advanced Shading Systems
QMotion automated window coverings are assembled in the United States and sold around the world by a network of premium dealers and partners. QMotion products require no re-wiring and are able–using standard D-cell alkaline batteries–to last years longer than competitors' battery-operated systems. QMotion products are environmentally friendly, can help reduce energy costs and are safer for homes with small children and pets. Qadvanced automated window coverings are the only motorized products on the market that feature a patented manual override. In 2014, QMotion was recognized with CE Pro's Gold Quest for Quality award for excellence in customer service. Learn more about QMotion products and dealer opportunities at qmotionshades.com.