The Antsul Group is opening 7 new Buffalo Wild Wings locations throughout New Jersey and will use the ELAN g! Control System in each of them to control 50-plus TVs, the lighting systems and surveillance cameras.
"When we opened our first Buffalo Wild Wings in New Jersey in 2009, we had a fully-capable control system installed – or so we thought," said Sullivan. "After using it for a couple of months, we realized what a hassle it was to keep walking over to the equipment rack to change the channel every five minutes. We want our restaurants to be absolutely the best they can be, both for our employees and for our customers. So before we began construction at our second location, we met with the team at Serious Audio Video, and told them we wanted to control the TVs from an iPad and our iPhones."
Casey S. Johnston, President of Union City & Hoboken, New Jersey-based Serious Audio Video Inc., knew there was only one solution to satisfy Sullivan's needs – the IP-based ELAN g! Control System. As soon as Johnston showed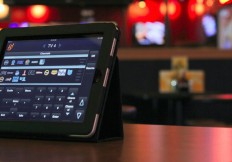 Sullivan the g!Mobile app on an iPad, Sullivan knew they had to have it. The ELAN g! System is built around an intuitive GUI that works similarly on all matter of devices, whether using an iPhone, iPad, laptop, an On-Screen-Display (OSD) on a TV, or even on a POS (point-of-sale) terminal.
"Casey came in and showed us the g! iPad app, and we were blown away," said Sullivan. "We didn't know there was a system like this. It not only makes managing our 50-plus TVs easy, it also lets us control our lighting and watch our security camera feeds remotely, which is huge for us since we're opening so many new locations. Now I'm going to be able to check on our Bridgewater restaurant while I'm at another grand opening 50 miles away. Finally, I don't have to think, 'I can't be in two places at once.' I can be in 7 places at once!"
The Antsul Group's new Bridgewater Buffalo Wild Wings location features 35 50-inch and three 60-inch LCD HDTVs, eight 100-inch projection screens and one 200-inch projection screen. The system streams audio and video from 12 sources, including DirecTV, cable and music services. The control devices include an iPad, all the POS terminals and an ELAN TS-7 touch panel that is built right into the rack in the control room. The brain of the system is the ELAN HC-6 controller, which handles information from 60 IR talk-back emitters. The audio system distributes to three zones and a total of 41 Community Pro speakers, including ceiling-mounted "cloud systems", which include a large subwoofer surrounded by four speakers.
"With all of the technology in our restaurant, it could be overwhelming to try to manage it all, but our new control system really lessens the workload," said Sullivan. "The ELAN g! Control System makes everything smoother and faster, so it allows my managers to focus on the staff and making sure we have the happiest customers. After all, keeping our customers happy is the whole point."
Sullivan is one of the first Buffalo Wild Wings franchisees to incorporate the ELAN g! Control System, along with a California owner who recently began using the system in three of his locations. And now Johnston believes that more restaurant and business owners will begin to see how this affordable, modular control system can benefit their businesses.
Johnston is so confident in the ELAN g! System that he is building a customized ELAN g! showroom at the Serious Audio Video corporate office in Union City, and he wants the system to be his main automation and control product for both residential and commercial applications. "The ELAN g! Control System brings everything together. It works in the home, and it works in doctor's offices, restaurants and hotels. Now that everyone is familiar with touch screen devices, the simplicity and familiarity of this system really make it the one to beat. And it's become so affordable that customers don't need to be convinced, they just need to be shown."