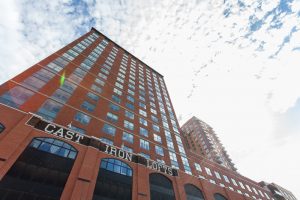 Griffin PR & Recession Proof Media partnered to create a press release for the smart system we designed for Cast Iron Lofts in Jersey City, one of NJ's most desirable rental communities. Next thing we know, it's everywhere. First Linkedin sent us and our connections the announcement on HomeToys.com and the floodgates opened up.
We're very proud of the smart system we designed at Cast Iron Lofts, it was one of our two projects featured in CE Pro's March 2017's Mark of Excellence issue and TechDecision's Project of the Week in February 2017.
Because of it's high performance energy efficiency, the system was highlighted by Proud Green Building & Technology Integrator. The fully integrated media & high speed communication aspects of the smart system caught the attention of Sound & Video Contractor. Finally, Dealerscope and CE Pro highlighted Cast Iron Lofts' extensive customization of this fully integrated smart commercial system.
Designed for heavy use with security and user-friendly functionality as the top two priorities, Serious delivered a system that helps this rental building feel more like a residential community.
See more about Cast Iron Lofts and projects like it in our Commercial Portfolio.