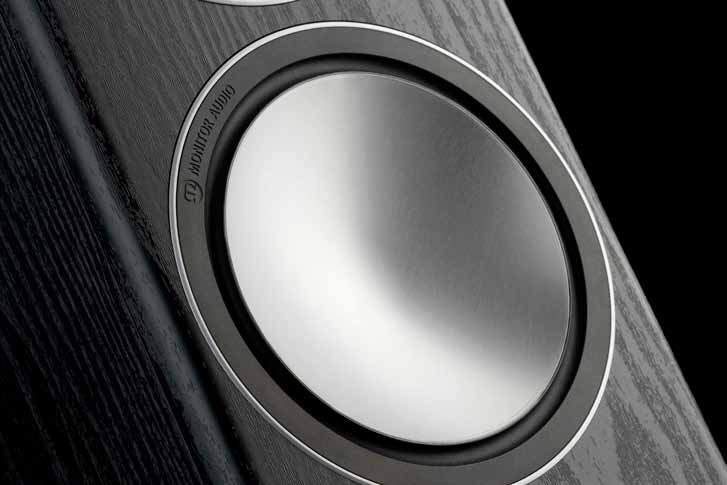 PURITY AND PRECISION FOR THE PRICE OF AN ORDINARY SPEAKER
Monitor Audio's story is intertwined with the evolution of our world-famous speaker lines. Driven by top-down innovation and ever more accurate acoustic analysis, each generation has grown in capability, achieving award-winning levels of quality, performance and value with every introduction. Our restless desire for the most blissful combination of great sound and design at all price points, demands that where possible we share the tech across ranges so that driver designs and analytic tools developed upstream serve to enhance ranges further down. For example, this allows the new Gold series to benefit from a version of Platinum's extraordinary C-CAM® ribbon tweeter, for Silver to inherit Gold's 'dished' C-CAM driver designs, and similarly for the new Bronze to absorb the latest refinements in tweeter and driver engineering from the Silver project. In many ways the new Bronze has everything to gain from Monitor Audio's dynamic forty-year design heritage. Enriched as it is with elements of Platinum, Gold and Silver, the brilliant new Bronze series will transcend the expectations of its price class and eclipse even its venerated multi-award winning predecessor Bronze BX.
NEW GENERATION, DIFFERENT CLASS

Our latest champion moves up a gear from BX and rival budget speakers because Bronze is simply in a class of its own. The features speak for themselves. For the first time we're using spectacular steel-grey C-CAM driver cones for a seamless blend with finishes, available in a choice of Black Oak and Walnut. Invisible driver fixings and floating magnetic grilles add to the impression of streamlined sophistication, lending the Bronze series the look and feel of a premium range.
It sounds like one as well. Drawing on our flagship technologies we've over-engineered the acoustic design to deliver lower distortion and a wider response from seven beautifully matched, deceptively slender models. Combined for natural full-range music and home cinema sound, the Bronze series will transform the quality of your home entertainment at a price that won't break the bank.

NEW BRONZE DRIVERS
All new C-CAM driver configurations give Bronze the tonal accuracy and consistency of a class leader. Harnessing driver technology developed for our acclaimed mid-market Silver models, Bronze explodes the myth that high power handling with low distortion belongs exclusively to the expensive world of audiophile design.
The proprietary bass and mid drivers responsible for Bronze's open, expressive and naturally rhythmic quality utilize a new type of 'dished' C-CAM cone, which employs the entire cone surface to radiate sound. Unbroken by the centre pole-piece aperture of conventional driver designs, the cone is inherently more rigid and efficient while being less prone to break-up under high drive conditions, resulting in exceptional detail resolution and life-like tonality. Ingeniously, the driver's voice coil is thermally coupled to the back of the cone, which draws heat away from the coil for better power handling and optimal operation at all volume levels.
Above the drivers, a new 1-inch C-CAM Gold Dome tweeter extends each system's frequency response to an ultra-sonic 30kHz, allowing the full reproduction of harmonic frequencies vital to the accurate reproduction of, say, the decay of a piano string or the crash of a hi-hat. Within the Bronze tweeter, an innovative venting system allows air to flow outside the tweeter's magnet assembly into a rear loading chamber, preventing air from being compressed at the back of the dome for lower distortion, reduced mechanical resonance, and improved damping. Structural improvements in dome geometry and drive mechanism have boosted accuracy and extension at the top end of the tweeter's range as well, generating the extraordinary high frequency quality that helps to define the sound of the Bronze series.