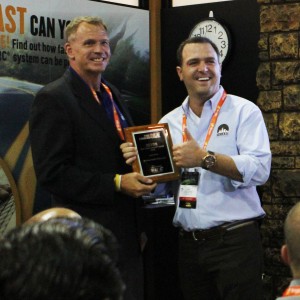 EIGHT URC® DEALERS IN THE US AND ABROAD RECOGNIZED FOR SUPERIOR DESIGN, SPECIFICATION AND INSTALLATION OF ADVANCED HOME AUTOMATION AND ENTERTAINMENT SYSTEMS.
Denver, CO. – CEDIA Expo, September 11, 2014 – URC, the leader in whole-house control, hosted a festive celebration to honor eight dealers for outstanding installations as the curtains closed on the opening day of CEDIA Expo 2014. The competition, dubbed "URC Unsurpassed Dealer Awards," was launched as part of URC's year-long 25th Anniversary celebration.
"We were astounded by the number of entries for this first-ever URC dealer awards program. The passionate creativity, expert skill and astute
professionalism shown by every candidate was tremendous," said Cat Toomey, URC's director of marketing. "They are all winners, but we could acknowledge only a shining handful. This amplifies our excitement for CEDIA this year and for what we may see next year!"
Contest lines were divided by URC product categories (Total Control and Complete Control), with additional recognition given for Most Unique Install and Best International Install.
Best Total Control Install Overall
Matrix Sound & Vision, New York, NY
Best Total Control Install  – Gold
Home Automation Electronics, San Diego, CA
Best Total Control Install – Silver (tie)
Serious Audio Video, Inc., Union City, NJ
WeeBee Audio/Video, Lancaster, PA
See the full list of award winners on CE Pro