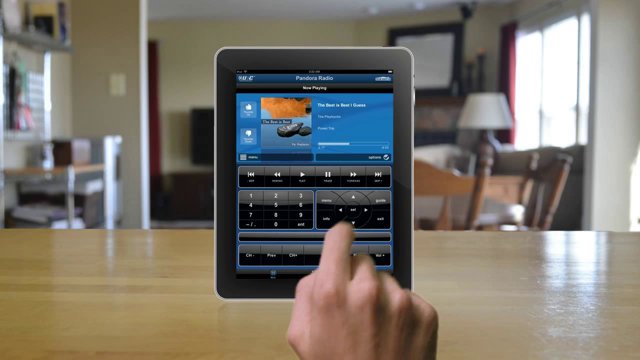 URC's most feature-packed, best-value home automation system has arrived, the MRX-8.
Changes channels – and everything else.
A/V, Lighting, Security, Temperature, Shades and more. Get the Total Control®
Compatible with all Total Control® products
Friends with every Total Control remote and interface including the award-winning TRC-1080, new Vivido™ Wireless Lighting, URC LED Lighting, Streaming Network Players and Amps, Accessories and more.
Compatible with over a thousand Z-Wave® products and countless other brands for full control.
Robust, two-year USA limited warranty on MRX-8 and ALL Total Control products.
Twice reports :
The $599 MRX-8 controller in the Total Control line "delivers the most feature-packed, value-priced home automation system in custom today,".
Separately, the company has just begun offering its own free Sonos driver for its Total Control controllers.
RC has begun shipping the new $599 MRX-8. For an unspecified limited time, the price includes all the iOS and Android apps needed by a household. Normally, URC charges $199 for household usage of the URC Mobile iOS app for Total Control systems and another $199 for all the Android apps needed by a household. The MRX-8 controls all of the same types of systems as the $699 MRX-10 in the Total Control line, but the MRX-10 features more powerful processor to run more zones and more complex systems in larger homes. The MRX-10 also features four RS-232 ports and four sensor ports, whereas the MRX-8 features two of both types in a chassis that's 25 percent of the size of the MRX-10 chassis. The new controller is intended for mid-size installs in homes and offices as well as in condos, whereas the $699 MRX-10 and the $1,200 MRX-20 are intended for larger installs. The MRX-20 adds on-screen home automation GUI overlaid on a TV screen while a movie or TV show plays in the background. The MRX-8 also features six IR outputs, port for an optional Wi-Fi and 2.4GHz RF range extender, port for an optional Z-Wave module, and one dry relay. All of the Total Control controllers connect to multiroom-audio and home entertainment systems, security systems, lighting system, motorized shades, thermostats, and the like.
Read more at Twice