We're proud to win our 2nd Bar/Restaurant Integration Award in 3 years. The system we completed at Buffalo Wild Wings, just in time for the Superbowl, is incredibly expansive and user-friendly.  Designed to save management's time and give franchise owners an easy way to check-in on their investment, the integrated system at BWW (Princeton, NJ) seamlessly controls and automates a number of daily tasks.
Read more about BWW Princeton and see the photo gallery in our Commercial Portfolio.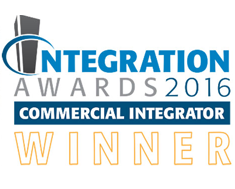 It's not all about price for some customers. Some put a premium on value, and even more so on proving that value.
This New Jersey-based Buffalo Wild Wings might have been the seventh location of the franchise owner for which Serious Audio Video handled the technology for the fast-growing sports bar chain, but that didn't mean the Union City, N.J.-based integration firm didn't have to earn it.
"They still made us bid against other companies and teased us for how much more expensive we are than the other guys," recalls president Casey Johnston. "We were more than double the price of our closest competitor."
The truth, however, is that the franchise owner had been impressed with Serious' previous solutions including the size, scope and reliability and, as such, gave more "free reign to design the system as we saw fit," Johnston says.
It was important for Serious to seize the opportunity in part because "there had been rumors of corporate potentially bringing us in to consult on other systems nationwide."
The high stakes were made more dramatic because — as is always the case with sports bar projects — the customer imposed a hard deadline in order to be up and running for a particular sporting event. "Having two weeks to do it was terrifying," acknowledges Johnston.
Read more about BWW Princeton in our Commercial Portfolio