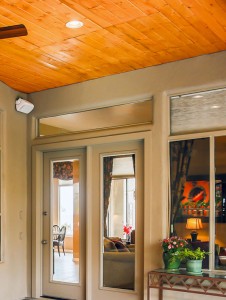 Nexus 21's CL-65 is the fastest, quietest and most reliable motorized flip down TV concealment system on the market. In just 16 seconds you can reveal up to a 65" television from the ceiling, providing an impressive home theater experience that is completely out of site when not in use. The mechanism features 95° of downward tilt and only requires 6-1/8" of vertical space, creating an incredibly capable lift that fits in mots spaces.
Easily camouflaged to blend in with your ceiling and decor.
Built from a strong, lightweight aerospace-grade aluminum alloy frame, the lightweight and durable mount is made in the USA and manufacture guaranteed for 10 years.