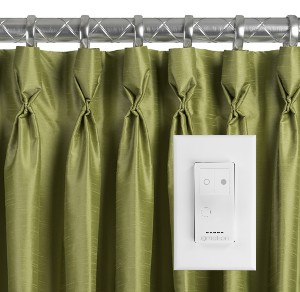 Coming Soon: QMotion motorized curtains.
Electronic House reports:
Motorized window shades have been a hot category for smart home automation systems in recent years. Motorized window treatments are a natural complement to a wireless smart lighting system. The ease of controlling the light and privacy of your home makes motorized shades an attractive option for new homes, and they're easy to integrate into existing homes as well. However, many homeowners have been looking for motorized curtains, rather than shades.
QMotion just came out with a motorized curtain system that uses a rod rather than a track system, so it looks just like any standard window curtain rod. The difference is that the QMotion motorized drapery rod lets you open and close your drapes with a remote.
QMotions' drapery rod is wireless and doesn't include any loud external motor or visible wires. It's battery operated, so you don't have to have a professional run power to the wall, and the motor is hidden inside the rod itself.
The remote operates on five wireless FM channels. You can configure each button to control one set of drapes (the remote can't open a left or right drape independently) or a group. For instance, in your bedroom you can have one channel open two sets of drapes on one wall, a separate channel control the drapes on another wall and a main button control them all at once. You can also customize presets for how far you want the drapes to open, from a little to all the way.
At the moment QMotion motorized drapes are not able to be controlled by the company's smart phone app, which operates shades only (rollers and honeycomb shades), but QMotion tells us that functionality will likely be coming later this year. Also down the road is compatibility with the Qconnect bridge for working with third-party home automation systems such as Control4, Elan and Savant.