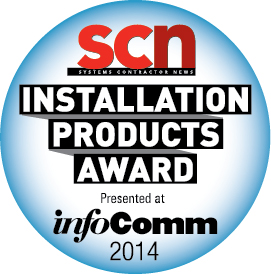 The award, presented by New Bay Media at a ceremony held at the Las Vegas Convention Center prior to Infocomm show opening, was accepted on behalf of the company by Stealth's president, Paul Hagman and vice president Steve Olszewski.
"We are very honoured that the professional audio industry has recognized our StingRay outdoor speaker as a unique and very capable solution that stands above the many great speaker products here at Infocomm", stated Paul Hagman.
"This is the third StingRay industry award in just a few months", chimed in Steve Olszewski. "We knew we had something very special, being the only outdoor speaker that is hermetically-sealed. Receiving industry award accolades from SCN and the Infocomm voters is an incredible validation of the product. StingRay is a sweet device and this award is even sweeter."
Based on Stealth Acoustics' advanced LRG invisible speaker platform, StingRay generates premium sound performance and near hemispherical radiation, across all frequencies from 45Hz to 18kHz. Bass response is enabled by a high-power 8" cone driver with high frequencies produced via a directly-coupled, 20 watt neodymium driver. Both devices drive Stealth's proprietary FidelityGlasstm glass-fibre solid radiating surface, specially designed to ensure optimum audio reproduction.
Environmentally stable from 0 to 150 degrees F, StingRay features a completely sealed, injection-molded enclosure constructed from fiber-infused marine grade UV protected ASA plastic. The speaker has an unprecedented CEI/ IEC Ingress Protection (IP) rating of IP-68, which certifies the speaker to be fully isolated from dust and water ingress. As a result, it can withstand the harshest environmental conditions, including rain, snow, sunlight, the effects of seasonal variations and extreme weather.
With its modern look and discrete curved design, StingRay is ideally suited to the professional installation market where audio and aesthetic quality is the defining requirement. It represents the perfect outdoor foreground music or paging speaker solution for sports facilities, restaurants, bars, swimming pools, patios, decks or outdoor areas in homes and ski chalets or aboard superyachts. StingRay can also be fitted in indoor areas where high humidity or chlorates is likely to be an issue, such as, spa pools and gyms.
Available in a standard white, black, sandstone, greenstone or greystone finishes, StingRay is also completely customizable using paint or may be fitted with custom-printed images to blend perfectly with any environment or customer taste. It is supplied with a proprietary mounting bracket for quick and easy wall or free-standing installation. An optional gimbal mount wall or ceiling bracket and ground-mount stake is available
See more at Stealth Acoustics homepage