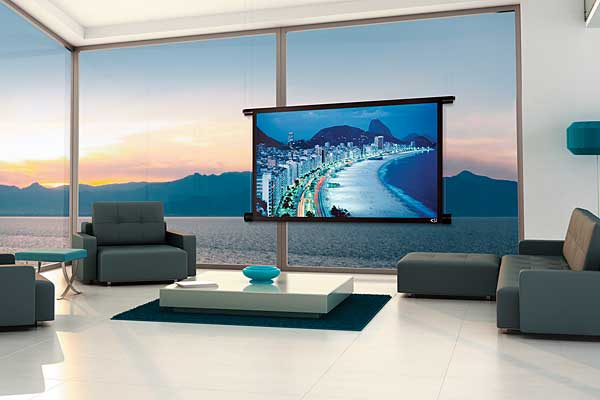 Designed to be the first levitating TV that "floats" an image in thin air and virtually disappears into the environment's existing décor, Black Diamond Motorized is a new sleek and sexy motorized screen solution. Consisting of a slender, cable-hung, motorized cassette, Black Diamond Motorized drops a small tube from the ceiling hanging only by thin aircraft cables. The tube then stops at a preset location and rolls the material down, into place. When powered off, the screen rolls from the bottom up using custom helixes and silently disappears back out of sight, leaving barely a trace of its existence. Featuring industry-leading Black Diamond ambient light rejection technology that reduces measured light scatter by over 75%, Black Diamond absorbs all unwanted ambient light in bright environments and dramatically increases viewer immersion in dark environments. In fact, unlike flat panel TVs, Black Diamond delivers zero glare and reflection when used in a bright environment.
Offering the best versatility for any residential or commercial environment, with image quality rivaling that of plasma TVs, Black Diamond Motorized is the most design and décor friendly entertainment solution available. Appealing to a diverse audience of men, women, and children alike, and sold for an affordable price, it is the ultimate blend of art + science.
Read more about this patent pending technology on Screen Innovations' website.
[mediagrid cat="562″ filter="0″ r_width="auto"]