Created without compromising on any of LS50's award winning acoustic capabilities, LS50 Wireless adds audiophile-grade amplification and sound processing, as well as extensive connectivity. It brings Hi-Fi sound to a new generation of listeners with digital music lifestyles.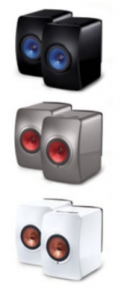 Astounding Multi-Dimensional Sound
LS50 Wireless delivers a clear, accurate and transparent sound that creates an intense, rich, and multi-dimensional soundstage experience. Made possible from its small enclosures through expert acoustic design and state-of-the-art technologies.

LS50 Pedigree
Cabinet vibration, sound radiation, resonance, and colouration are all eliminated through the seamless integration of the award-winning LS50 speaker's acoustic features. These include the FEA-designed cabinet, Uni-Q driver, constrained layer damping bracing, precision-engineered curved baffle & elliptical flexible sound port.
Every Spot is Sweet – Uni-Q
Get a three-dimensional sound image wherever you sit, for a sweet spot listening experience anywhere in a room using KEF's patented Uni-Q technology. Now in its 11th generation, it places the tweeter in the acoustic centre of the bass/midrange cone, allowing LS50 Wireless to create a more detailed, accurate and beautifully integrated three-dimensional sound image.
Crossover Timing Correction
High and low frequencies should hit your ears at exactly the right time. This perfect time alignment was only an ideal case in theory previously, and perfectly accurate sound could only be experienced within a small 'sweet spot'. With LS50 Wireless' advanced time correcting DSP crossover and the unique sound dispersion abilities of Uni-Q, time corrected accurate sound can be achieved in different types of rooms. This is a feat that cannot be reproduced by any other active speaker.
Audiophile Grade System Configuration
Audiophile-grade sound means audiophile-grade technologies. LS50 Wireless delivers this with an array of sophisticated components built in. Through expert audio engineering, LS50 Wireless includes an end-to-end 192kHz/24-bit high-resolution digital signal path, dedicated DAC per channel, streaming pre-amplifier, and a 230-watt x2 amplification in a bi-amp dual mono configuration. All factory-optimised.
End-to-End High-Resolution
Every piece of information from a high-resolution music source is reproduced fully and accurately through an end-to-end 192kHz/24-bit high-resolution digital signal path. This creates a signal path from the input to the amplifiers that is completely digital and high resolution.