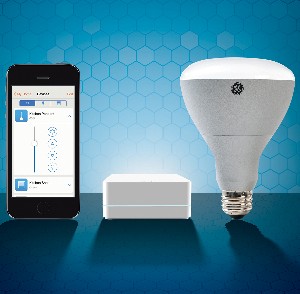 Twice reports:
Lutron is filling the gap in its product line between $20 in-wall dimmers and custom-installed whole-house lighting-control systems with the launch of a new mass-market low-cost home-automation system.
The system will focus on Lutron's core competencies in lighting, shade and temperature control and enable control from iOS and Android tablets and phones, said product development manager Matt Swatsky. Commands can be issued within a home via the mobile devices' Wi-Fi or a handheld remote. Commands can be issued from remote locations via cellular.
The products include the $150-suggested Smart Bridge, which plugs directly into a home's Wi-Fi router. Wireless commands are sent from an iOS or Android app for tablets and smartphones to the hub via Wi-Fi. The hub in turn sends wireless commands via proprietary ClearConnect 434MHz RF technology to Lutron's Caseta Wireless in-wall and lamp dimmers and to Lutron's battery-powered Serena motorized shades. Range is guaranteed within a 30-foot bubble through walls, including brick walls, said Swatsky.
The Bridge, which will be available Sept. 1, will also control a Honeywell Wi-Fi thermostat due in the summer and a GE LED lightbulb due late this year. The latter will incorporate Lutron's ClearConnect RF technology.
Distribution through retailers is under consideration.
Via Lutron's apps, the Bridge can be programmed to control scenes. An internal time clock lets users schedule automatic adjustments of lighting settings and shades by time of day.
The apps also show the status of lights (off or percentage of light level), shades (opened, closed and the percentage open), and in-home temperature.
To promote the mass-market system, Lutron plans consumer advertising, social-media promotion, POP, and working and static displays.
The mass-market system won't compete with Lutron's more expensive Radio RA wireless systems, which are intended for larger homes, thanks in part to wireless repeaters that extend range to 10,000-square-foot homes, said Swatsky. The Smart Bridge system is intended for modest-size homes given the Bridge's 30-foot range, he said.
Radio RA also connects up to 200 devices, including keypads, dimmers and shades, while Smart Bridge can connect with up to 50 devices, he added.
Current RadioRA starter packs consist of five dimmers, in-wall keypads, and a repeater retailing for about $1,700, but a Smart Bridge and five Caseta dimmers will retail for $450 and not require professional installation, he said.
The company also plans a step-up version of the Smart Bridge at a suggested $199. That product, available June 30, will integrate with select third-party A/V control systems, including Control4 and URC systems, and security systems, including Alarm.com systems. It will be sold through distributors selling to electricians, security installers, window-covering stores, lighting showrooms and A/V installers.