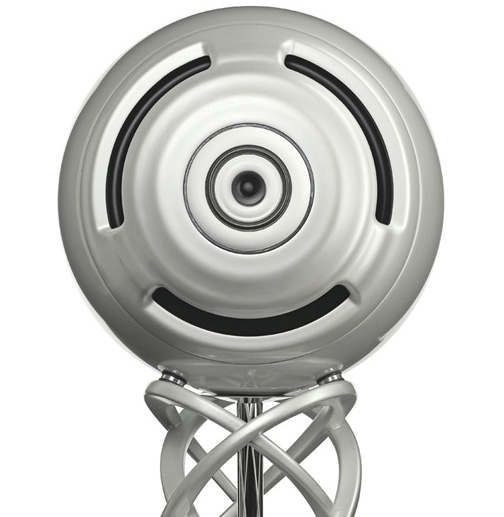 A good-sounding name, but where does it come from? Founded in 1950 by Georges Cabasse, the Cabasse firm inherited not only its creator's name, but also his love for pure sounding audio. Georges Cabasse has a unique memory for sounds, probably a gift from his ancestors; hailing back to a stringed instrument maker who crafted the first violin (signed Cabasse in 1740 at Mirecourt in the Vosges Mountains). Five generations of craftsmen followed him, pursuing the tradition and supplying Europe with violins, violas and cellos, most of which are still being played in orchestras today.
The fact remains that Georges Cabasse's obsession is to perfectly reproduce the concerts he loves, without any alteration, coloration or distortion in the sound. This boundless passion has led him to relentlessly innovate, so that all ears can enjoy the essence and thrill of pure sound.
STEREO HI-FI SOLUTIONS
Cabasse stereo loudspeaker systems: two designs, one sound
Spherical, rectangular, traditional or design, with a subwoofer or without, all Cabasse stereo systems benefit from the same technologies and the same development protocols. Cabasse designs the drive units, the crossovers and the cabinets, with the natural reproduction of music constantly on their minds.
The technical testing and measurements carried out at every development stage from the first prototype to production samples are double checked by critical listening. The final approval for launch is given by the listening committee and guarantees the Cabasse signature, whatever design and model you choose.
HOME THEATRE SOLUTIONS
Cabasse's two types of home theatre solutions:
The single package which includes the subwoofer, the satellites with their bases for bookshelf and on-wall use, a set of cables and even a pair of floor stands for the 5.1 Eole 3 system. The packages can be supplemented with extra stands and/or satellites, in both on-base and in-ceiling versions.
The "à la carte" solutions. Thanks to their identical sound signatures and soundfield coherency, from the entry model up to the reference system, combining Cabasse models is acoustically very easy.  Your Cabasse dealer/installer will help you create the system that will exactly fulfill your expectations. This is a selection of possible combinations.
As a member of the Canon Group, Cabasse is deeply involved in its environment friendly policy and has been ISO 14001:2004 certified in September 2008. Whether music lovers, musicians, cinema buffs, sailors or landlubbers who love the open spaces; all the men and women on the Cabasse team share the taste for genuine perfection, nature's force and resources, the emotions of "live" sound.
See more from Cabasse