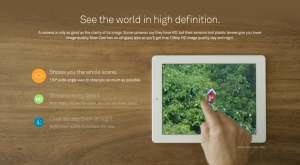 Now, the convenient and affordable Nest cameras are available in weathrproof models. The Nest cams are stylish, user friendly and reliable. Two way communication makes it possible to speak with whomever is at the door or shout something menacing at would be burglars.
Records everything. Just in case.
Some cameras that rely on batteries can turn on only when they sense motion. But if they miss something, you do too. With a Nest Aware subscription, Nest Cam continuously records up to 30 days of video securely in the cloud. So you never miss a thing.
Alerts you when something happens.
You can't always be watching your video feed. Nest Cam looks for motion and listens for loud sounds, like a boom or the crash from a window breaking. Then it can alert you with a photo from the event, and even save some pictures in the Nest app for three hours.
Knows a person from a thing.
Get alerts that matter. When you subscribe to Nest Aware, advanced cloud algorithms pick out the activity you care about.
Don't just watch. Listen in & talk back.
Nest Cam Outdoor has a built-in speaker and mic so you can scare off a suspicious visitor when you're out, or let the delivery man know to leave the package at the door.