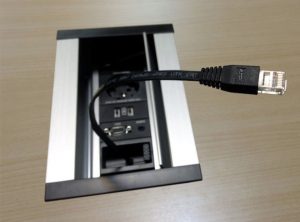 The AMX HydraPort provides connectivity that compliments the design of any room. Keep your conference room or office clutter free with sleek and stylish units that store wires or hide consoles from AMX by Harman.
Best Price – AMX HydraPort Retractors beat the competition in just about every feature area but are priced significantly less – over 35% less – than competing retractors – HydraPort Retractors are $295 USD MSRP, competing retractors start at $450 USD MSRP – why pay more for less?
Ever-Evolving, Completely Modular – The HydraPort system is fully modular so as needs change, so can your HydraPort – quickly and easily, without having to replace your entire system. Move to a laptop with DisplayPort? No problem – just switch out the module and in seconds, your system is fully upgraded.
Future-Proof Platform – Over 50 HydraPort modules are available to choose from. AV, networking, charging and power modules supporting a variety of client format needs and global regions are available so your system can never be out of date and has an extremely long lifecycle.
Highest Retractor Reliability – AMX HydraPort Retractors are the most reliable in the industry, providing the end user with an investment they can count on for years to come.

AMX HydraPort Retractors are rated to 10,000 pull cycles.
Competing models are rated to either 5,000 or 7,000 pull cycles.