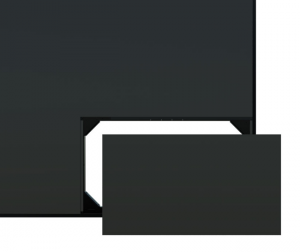 Screen Innovations developed a cost effective way to add high quality projection to your home or business. The "Tiles" approach to building the projection screen makes it easy to customize to any space while the Black Diamond fabric enhances the quality of the video being projected.
The award winning Black Diamond® projection screen has been touted as the best material that money can buy. It's only limitation, it can't be stretched beyond a certain height and maintain it's image quality. So, the people at Screen Innovations devised an interlocking tile system. By tiling the fabric it's guaranteed to not stretch beyond it's maximum height while giving installers the ability to fully customize the size and shape of the screen.
Precision Running-Bond
To ensure not only the strongest possible tiling system but also the highest precision standards, Screen Innovations uses an all-new computer controlled cutting system capable of extremely exact specifications in combination with a running-bond pattern for superior strength. Such attention to detail is an absolute necessity to ensure that customers will receive the best possible quality and longevity out of their Tiles screen.