Seura is about to release two 84″ 4K outdoor TVs, one in each of their outdoor lines
(Storm & Storm Ultra Bright).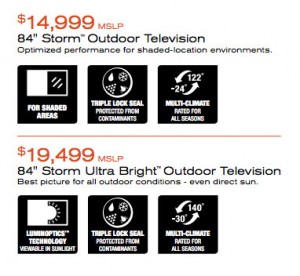 The 84inch 4K Storm Ultra has an initial list price of $14,999 where the Storm Ultra Bright comes in a $19,999. The Storm TVs are better suited in shaded locations where the Storm Ultra Bright resists glare, even in direct sunlight.
Both lines are equipped with a triple lock seal to protect the hardware from the elements and other contaminants like dust. Multi-Climate rated for all seasons, the unit can withstand blistering desert heats of 140 degrees and frigid cold of 30 degrees below.
These won't be released until Spring 2016, but we're taking pre-orders and scheduling installations for their release date. Start planning the backyard or rooftop oasis of your dreams with Serious Audio Video.