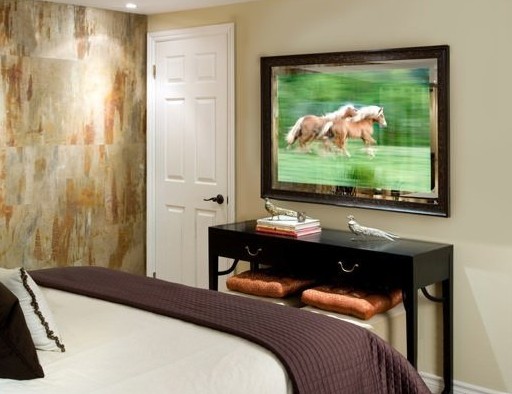 Electronic House reports :
You may love to show off your new 4K Ultra HD TV when it's displaying a great Blu-ray movie or a live sports event, but when it's turned off it's just a big black rectangle. We've shown you ways to hide your TV before, but one of the best ways is to hide it in plain sight with a mirror TV. Now Seura is making it mirror TVs even better with the new Vanishing line that makes them flush with the wall and ups the resolution to 4K.
Seura says the line of products support the integration of large screen TVs into interior spaces without disrupting the design of the room through their ability to sit flush on a wall, while providing a choice of designer frames that complement room themes.
"Seura Vanishing Entertainment TV Mirrors set the industry standard with a combination of superior technology, quality and design," says Gretchen Gilbertson, CEO and founder, Seura. "It is our goal to provide our customers with the ultimate solution for their desire for the highest TV technology available, presented in a way that actually enhances the room where they watch TV. Seura has developed a flawless product that seamlessly transforms framed picture mirrors into extraordinary UHD TVs."
Read more at Electronic House