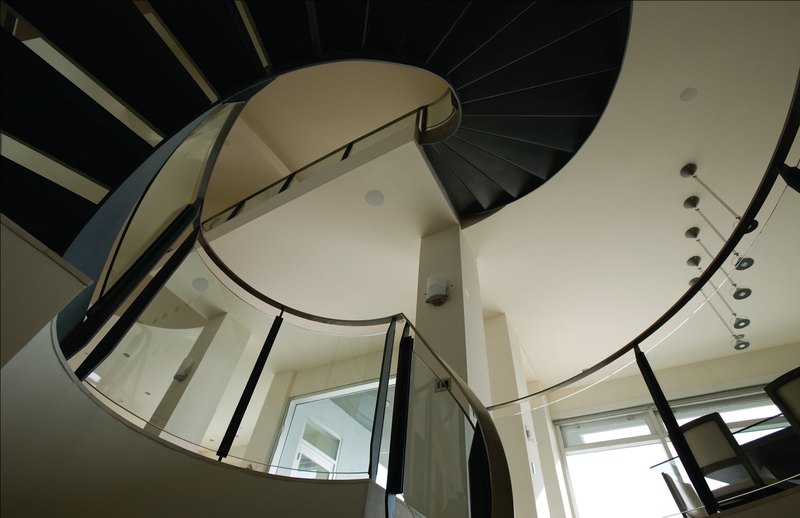 CE Pro reports :
If you take the best sonic qualities of Sonance speakers and meld them with the most elegant designs of TruFig, you can begin to understand the new Discreet Opening System from Sonance, featuring 4-inch speakers and subwoofers that match standard 4-inch downlights. TruFig is the sister company of Sonance and the innovator of truly-flush mounting options for keypads, switches, electrical outlets, touch-screens, HVAC vents and more. Sonance brings a similar installation platform to its new architectural speakers, which are now available.
The speakers aren't just trimless – everyone's doing that nowadays – but the unique mounting platform ensures the grilles lie totally flush with the drywall, wood, stone or whatever material graces the walls or ceilings.
For drywall and plaster construction, the mounting platform is installed as part of the ceiling and finished with the surrounding surface – just like a regular piece of 1/2-inch or 5/8-inch Sheetrock.
Sonance also offers options for wood, stone and other surfaces, with a flexible platform that accommodates a variety of material thicknesses. Paint the grilles to match the surface and you can barely see them.
To make doubly sure that the speakers blend right in, the mounting platforms include a "precision grille leveling system [that] ensures a perfectly flush installation with the surrounding ceiling surface, eliminating unsightly shadow lines and minimizing distraction," Sonance says.
Platforms accommodate both round and square grilles, both of which are included with the speakers and subwoofers.
A complete system (starting at $3,800) comprises four AS38RS two-way speakers combined with either one or two BPS6 band-pass subwoofers.
The satellites and subs utilize the same grille size and shape for consistency, "while the configuration delivers more even coverage and superior tonality throughout a space than traditional loudspeakers," according to Sonance. "The unique form-factor and mounting platform provides far greater positioning flexibility, allowing more accurate alignment and spacing with downlights, and other ceiling fixtures."
For higher ceiling installations or clients seeking very high volume levels, the AS68RS offers the same flush and trimless aesthetic in a 6.5-inch two-way speaker. The brand-new BPS8 band-pass subwoofer can be combined with four AS68RS Speakers to achieve the SPL of a large speaker system with the less obtrusive, medium-sized aesthetic, according to Sonance.
The company explains: "Both the AS38RS and AS68RS feature a ceramic dome tweeter and high-excursion carbon fiber and Rohacell-laminated woofer for natural accurate sound and minimal distortion across all listening levels. The BPS6 and BPS8 utilize a high excursion, dual-voice coil, carbon fiber and Rohacell-laminated driver for deep, impactful bass augmentation."
See The Architectural Series on Sonance's website