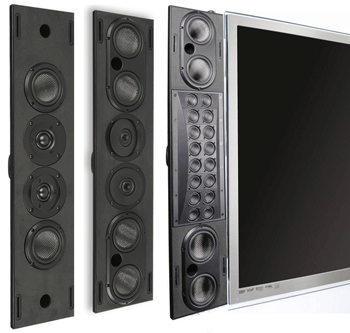 Available at Serious Audio Video :
Artison was founded in 2003 and has since been committed to the development of leading edge technology, lifestyle-enhancing home entertainment solutions. Led by renowned speaker designer Cary Christie, Artison continues to demonstrate its expertise with technological innovations and advancements that enhance consumers' home audio and video enjoyment that deliver a unique Total Involvement Experience™.
Artison's approach of combining powerful high-performance audio with elegant, unobtrusive aesthetics brings people new levels of enjoyment, realism and emotional connection with their home entertainment, music, movies, and video games.
Artison's Masterpiece, Portrait, and Sketch LCRDM-MK2s, are engineered to perfectly match today's new ultra-thin flat panel displays. They include all three front-channel speakers (Left, Right, Center) in two slim enclosures utilizing Artison's patented DualMono® Center Channel technology, which projects crisp clear dialog in the center of the screen rather than above or below the set. Side-firing Stage Tweeters widen the soundstage giving the listener a more powerful Home Theater experience. In addition to the new LCRDM-MK2 speakers, Artison's full line of advanced home entertainment audio solutions include a range of high performanceSTUDIO SoundBars, In Ceiling, In Wall and On-Wall Surround Satellite Speakers, In WallSubwoofers.
See the full line of products available from Artison.