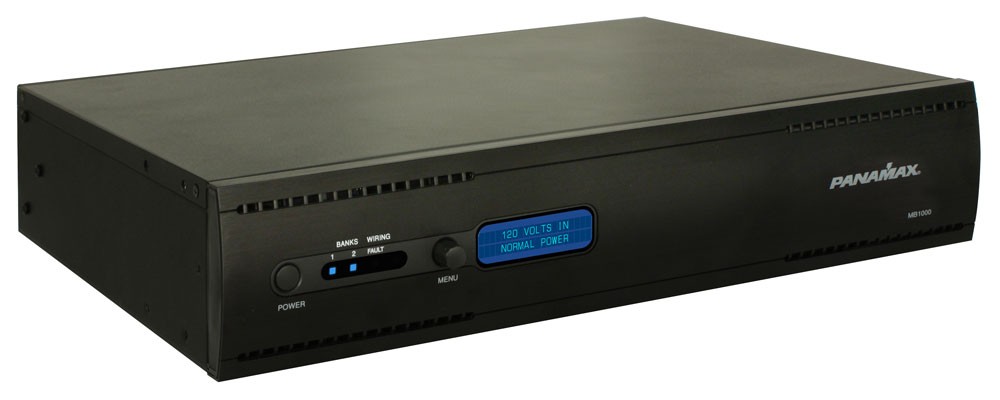 Panamax's new family of UPS products are designed and engineered specifically for today's sophisticated home theater systems. Combining several features and technologies, this product family delivers the ultimate power solution whether the problems include typical power fluctuations and temporary power outages, to dangerous overvoltages or a total system blackout. Panamax UPS products offer solutions to prevent processors and hard drives from losing data and configurations.
SURGE PROTECTION
Protects equipment against prolonged over/under voltages by disconnecting the power and reconnecting it when safe power returns.
BATTERY BACKUP (UPS)
Prevents critical equipment from losing setup configuration, stored data and hard-disk crashes by preventing loss of power.
BLUEBOLT™
BlueBOLT™ Remote Power Management technology provides secure, hosted IP (Internet Protocol) system control.
LINEAR FILTERING
Improves picture and sound quality by eliminating noise across the entire AC bandwidth.
Panamax is the country's pre-eminent designer and manufacturer of electronic and electrical protection, filtration and control products. For over 30 years we have achieved an international reputation for our unique solutions to the worldwide problem of power disturbances and has earned numerous industry awards for the quality and variety of its products. Panamax has also been recognized for its innovative Lifetime Warranty on almost every unit produced and for its Connected Equipment Protection Policy.
Founded in 1975 by Henry Moody, Panamax made its debut the same year the first personal computers became available to the public. The company is now led by President Bill Pollock. Panamax is part of the Home Technology Group of Linear, LLC, a division of Nortek, Inc.
Panamax has some outstanding innovations such as in-wall protection, remote surge protection, rs232 and IP controllability that are focused on the custom installation market.
Panamax is sold more often in retail stores and is distributed by AVAD and other large distributors.