Ce Pro reports :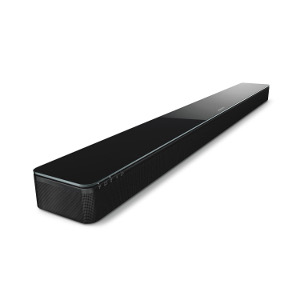 Bose's new sleek SoundTouch 300 measures 38.5 W x 2.25 H x 4.25 D inches. The wireless-friendly product features Wi-Fi and Bluetooth with NFC to pair with source devices, thereby enabling quick and easy streaming access to services such as Spotify and Pandora.
Its design is sure to please owners, as Bose wraps the SoundTouch 300 in a perforated metal grille sporting a glass top. Internally, the soundbar incorporates Bose's PhaseGuide arrays to produce a spacious soundstage, according to the company; its QuietPort technology to deliver clean, impactful bass; and ADAPTiQ calibration to tailor the sound to the environment.
"With the SoundTouch 300, we've filled a gap in the market," says Pete Ogley, general manager of Bose audio-for-video. "We pushed the boundaries of size, sound and design like nothing else available in the category. We added Bluetooth to Wi-Fi so you can stream anything, instantly. And because it doubles as a wireless music system and home theater system, you'll get an incredible experience whether you're listening to your playlists, enjoying Netflix or watching the game — all from one gorgeous speaker."
Additionally, while the SoundTouch 300 can certainly sound off on its own, it can also wirelessly connect to other SoundTouch speakers for a multiroom solution, and be installed as part of a 5.1-channel system with Bose's acoustically matched Acoustimass 300 bass module and/or Virtually Invisible 300 wireless surround speakers, the company notes.
Bose anticipates the SoundTouch 300 soundbar, Acoustimass 300 bass module, Virtually Invisible surround speakers, and Lifestyle 650 and 600 systems starting in October 2016.
Lifestyle 650 and 600 Systems Go Small
Bose's heritage also includes small satellite speakers that produce big surround sound, and the company's new Lifestyle 650 and 600 systems speak to that.
The Lifestyle 650 (pictured) boasts the company's smallest sat speakers ever, four new OmniJewels that are just 1.84 W x 5.77 H x 1.84 D inches. Each includes new high-excursion transducers in opposing placement, that go in tandem with a slim center channel and bass module for a full system surround-sound install.
Pricing is as follows: $699 for the SoundTouch 300; optional bass module $699; acoustically matched surround speakers $299; Lifestyle 650 and 600 systems for $3,999 and $2,999, respectively.