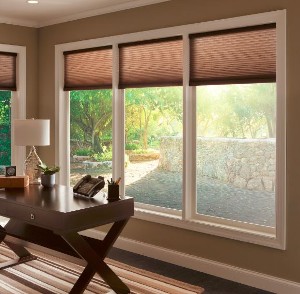 Serious Audio Video offers a complete line of motorized blinds and shades, fully customizable to your decor and lifestyle.
Electronic House reports :
Motorized shades and blinds can be part of a complete custom home automation system, or they can be added one room at a time, as your budget or needs require. One of the nice things about automatic shades in a home automation system is that each room can be programmed to run its own scenes in its own way, depending on how the room is used. Here are a few great examples on how automated window treatments can enhance different rooms.
Bedroom
Some people have a lot of trouble waking up in the morning, especially when the bedroom blinds are keeping the room dark. Motorized window coverings can be programed to automatically open when your alarm goes off, or, if you don't need to wake at a specific time, they can be synced with a smart home system that triggers the blind to open at sunrise (based on an astronomical clock). Conversely, if you need the blinds closed when you're getting dressed, you can program them to automatically give you privacy when you exit the shower. A professional integrator can come up with several ways to achieve this.
Living room
You can use the sun to warm your living room in the morning, and insulate it in the evening, by setting your shades to automatically open when the sun is shining on one side of the house, and close when the sun has moved away. If you're worried about furniture, rugs or art fading from sun exposure, automated shades can keep those damaging rays away without you having to be home to close anything.
Dining room
The dining room is a great place to use motorized window shades. Few things ruin a pleasant evening meal than the setting sun blinding you while you're trying to eat with your family. Set your dining room shades to close at dinner time. They can open automatically an hour later if you like, or just stay closed for the night.
Media room
If you have a dedicated home theater or media room, you don't want any sun washing out the picture on your projection screen or flat panel TV. Motorized shades can be programmed to close at the same time you press the play button to watch your favorite movie. If you're not ready for that kind of integration yet, simple app or remote-controlled shades can make it easier for you to create the right atmosphere for movie time without costing a lot.
High-hallways, foyers and special windows
Many modern (and classic too) homes feature windows in high, out of the way places. These are nice design features, especially if they capture the morning sun. But they can also be impossible to manage with manual shades or blinds. In the absence of a ladder, motorized shades are not only the best, but are also the only way you can control the light from those high and out-of-the-way windows.