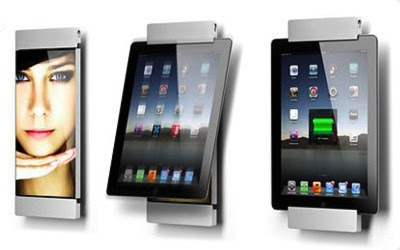 The sDock iPad & iPhone docking stations are a perfect fit for a variety of residential and/or commercial applications.  
Insert your iPad into the sDock with just two clicks:
Insert: Latch it at the top first, then at the bottom.
That's it.
Remove: Simply push up briefly. Take it out.
Easy as pie. 
The sDock can be mounted quickly and easily. The sDock is pivotable using our pivot mount or you can mount it into a fixed position if you like. Either way all controls are easily accessible.
 Lockable.
In the office, at trade fairs, in the hotel or in public places your iPad is protected from theft. The locking feature allows you to control who can access the iPad.
The sDock can hold and charge more iOS devices like iPad minis , iPods or  iPhones. 
Now You can have one charging point for all of your iOS devices.
You select and create the picture for your sDock photo frame. Now when the iPad is not there, the picture matches your home, matches your office, and is a perfect match for you.
[mediagrid cat="649″ filter="0″ r_width="auto"]