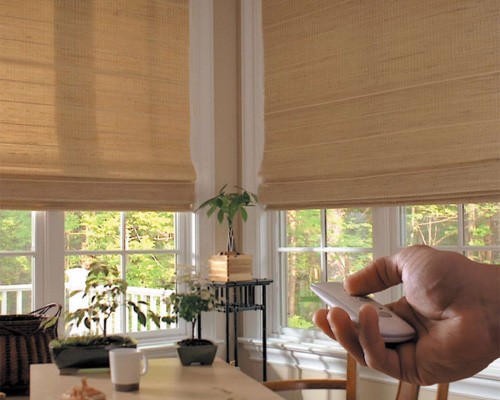 Electronic House lists it's top motorized home gadgets; all of which are available at Serious Audio Video.
It's okay to put motors in your house. Really, it is. There will be no grease or exhaust fumes—just pure ease and enjoyment when you incorporate them wisely, and with the help of a trained home electronics pro. Over the years, manufacturers have developed a variety of clever motorized electronics products for the home. They'll not only appeal to your tech-savvy side, but will offer some real practical benefits, like helping to maintain a clean room aesthetic and enhancing the performance of an A/V system. Here are a few of our favorite motorized finds:
KEF Ci Series ceiling speakers
The Ci speakers from KEF mount flush with the ceiling surface, but on command from a remote control they tilt move out slightly from the ceiling surface so that they are directly at the couch, for example. When the movie is over, they retract back into the ceiling.
Chief Manufacturing
Homes with an open design can benefit from a TV swivel that's motorized, like the Automated Swing Arm Wall Display Mount from Chief Manufacturing. Fire off a command from handheld remote to turn it toward the kitchen while you're preparing snacks then back again toward the family room couch when you're ready to settle in.
Future Automation 
Here's a twist on the common concealment tactic that involves placing artwork over the screen of a flat-panel TV. Instead of rolling canvas over the screen, Future Automation's line of Moving Panel Mechanisms can slide a large piece of art vertically or horizontally to conceal and reveal a wall-mounted TV.
Q-Motion
Motorized roller shades that can be operated via a remote or mobile device have been around for some time, but the ability to also control a motorized unit by hand is a feature unique to Q-Motion's line of shading. It's a concept that makes a lot of sense: why grab a remote or launch a smartphone app to operate the shades when you're standing right in front of them? A gentle tug tells the shade's motor to raise or lower.