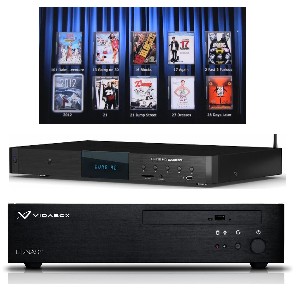 VidaBox, LLC. produces a variety of digital entertainment & control solutions, such as Media Servers, Media NAS systems, audio servers, iPad frames & wall mounts, power-over-CAT5 USB charging solutions, plus other premium AV accessories to help provide complete solutions for integrators. This wide range of products help to achieve seamless control and reliable, multi-room AV distribution of Blu-ray, DVDs, music, pictures, video, and other digital content.
VidaBox media servers make it possible to keep your movie library in one easily accessible location.
Turn any Dune HD Player into an affordable, easy-to-use whole house video player!
Simple, Intuitive TV Interface… Every movie is just a click away!
Browse via beautiful cover art, movie title, release year, genre, & more – right on your HDTV screen! Select any cover art for instant playback.
Control w. iOS / Android Apps… Get rid of your remotes! Browse for movies on your iPhone, iPod, iPad, or Android device, see rich metadata, or find what you want by Title, Genre, Release Date, and other sorting options – and easily start playback in seconds!
Control Systems Integration… Enjoy convenient movie browsing experience on your Control4, Crestron, Compass, RTI, Elan, URC and other control interfaces.
2-way drivers are available for quick integration! An open API is available if you'd like to create and write your own driver – contact us for more info.